Rick Perry Jabs Back at Trump, Challenges Him to Come to Texas and Meet Hispanic-Americans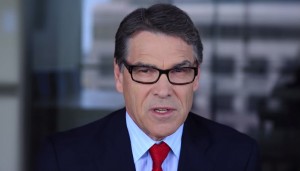 On Sunday morning, 2016 GOP presidential hopeful Donald Trump went on one of his many Twitter tirades. This time, he stuck to his guns on touting his previous comments on Mexico and illegal immigration, but instead of targeting Mexico itself, Trump took issue with former Texas Gov. Rick Perry apparent mishandling of border security.
But don't rely on my skewered, media-ese summary of Trump's tweet (or the link provided). Check it out for yourself:
Rick Perry failed at the border. Now he is critical of me. He needs a new pair of glasses to see the crimes committed by illegal immigrants.

— Donald J. Trump (@realDonaldTrump) July 5, 2015
It's by no means the worst thing Trump's ever tweeted, but like most of his social media excursions, it follows a pattern. Somebody says something bad about the Donald. The Donald responds on Twitter. You're fired. Case in point, Perry's statement on Trump's "huge error" when making wild assumptions about Mexicans in his famously bad comments during his candidacy announcement.
Instead of resorting to a tweet or a goofy Instagram video, Perry's campaign posted a 3:06 video on YouTube. In addition to using the platform to emphasize his 14-year tenure as Texas Governor and the knowledge such border proximity apparently (automatically) bestows, Perry took the opportunity to jab back:
Donald, you might want to take a trip down to Texas sometime to meet some of the Hispanic Americans who've helped make our nation great, and to learn a little bit about what we need to do to secure our border with Mexico. Otherwise, your remarks might make for good reality TV, but they're way out of touch with reality. There will always be bad actors out there.
I still can't get over the fact that Perry keeps calling him "Donald." It shouldn't be that funny, but it is.
Check out the clip below, courtesy of Rick Perry:
[h/t Benjy Sarlin]
[Image via screengrab]
— —
>> Follow Andrew Husband (@AndrewHusband) on Twitter
Have a tip we should know? tips@mediaite.com