Rick Perry's Saudi Arabia Glamour Shots Inspire Memes: Living His 'Best Life'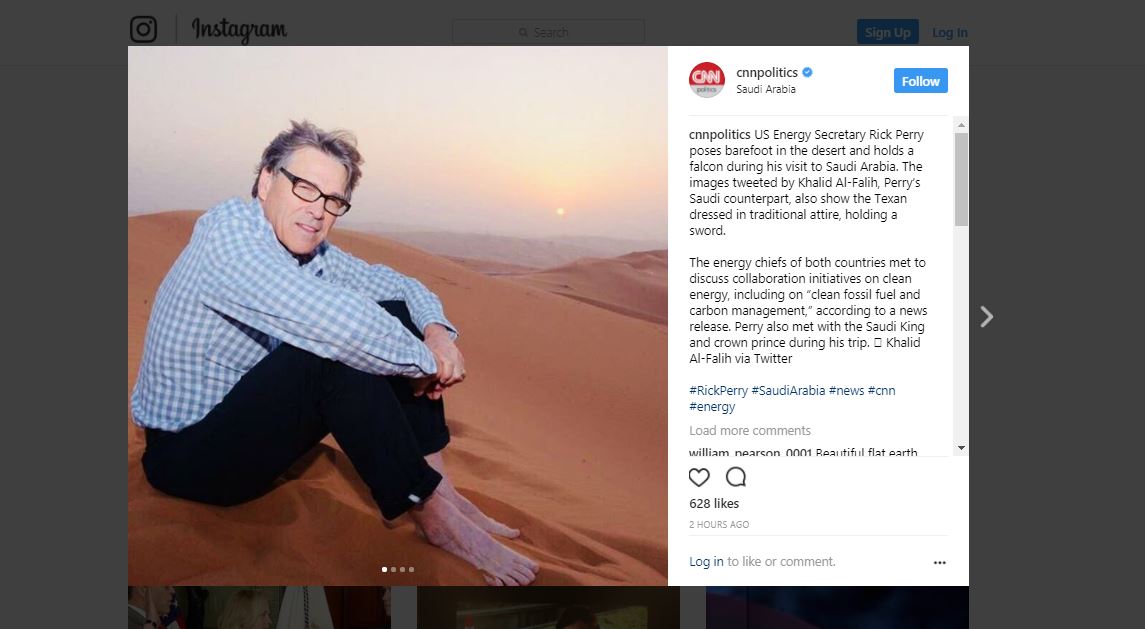 Secretary of Energy Rick Perry visited Saudi Arabia this week to work out a fossil fuels management agreement, but he came back with the best photos the internet could have hoped for.
"Together through the development of clean energy technologies our two countries can lead the world in promoting economic growth and energy production in an environmentally responsible way," stated Perry on his visit.
The former governor of Texas and Dancing With The Stars contestant can be seen in a number of high-res photos "living his best life," as one Twitter user put it. Perry appeared to be enjoying the Saudi deserts, good food, and local wildlife.
Twitter turned these glamour shots into numerous hilarious memes, as the opportunity of a Trump administration official posing barefoot beneath the setting sun was too good to pass up. Check out some of the best ones below:
Guys, I think @SecretaryPerry might drop an album. pic.twitter.com/D07bxUgIdP

— Anthony Adragna (@AnthonyAdragna) December 5, 2017
Rick Perry's an Instagram Thot now pic.twitter.com/lca9fEnNqm

— Gabriella Paiella (@GMPaiella) December 5, 2017
Did Rick Perry just sign up for a Saudi dating website? https://t.co/w6AghhfAGC

— Chris Lu (@ChrisLu44) December 5, 2017
Find someone who looks at you like Rick Perry looks at pita pic.twitter.com/NCNFl6H34W

— Josh Billinson (@jbillinson) December 5, 2017
.@SecretaryPerry looks like he lived his best life in Saudi Arabia pic.twitter.com/Z100qLSW0C

— Miranda Green (@mirandacgreen) December 5, 2017
Why is everyone talking about the desert picture when we could be talking about Rick Perry the falconer and Rick Perry about to behead some kafir. pic.twitter.com/OIDXXZEIo9

— Griswold Christmas Vacation (@HashtagGriswold) December 5, 2017
Man, I wish Rick Perry and his Jar Jar Binks feet really did live on Tatooine. pic.twitter.com/ZCGqgXSztA

— Gladstone (@WGladstone) December 5, 2017
don't worry middle earth, rick perry's got the ring and he's on his way to mordor pic.twitter.com/gGDgjaMIqb

— alexis nedd (@alexisthenedd) December 5, 2017
i am "trying too hard to look casual for my tinder pic in the desert" rick perry

— Tony Romm (@TonyRomm) December 4, 2017
Spoiler alert pic.twitter.com/5dbUpE3Zfk

— Brendan Nyhan (@BrendanNyhan) December 5, 2017
[image via screengrab]
Follow the author on Twitter (@calebecarma).
Have a tip we should know? tips@mediaite.com