5 Stunning Takeaways from New NYT Report on Harvey Weinstein's 'Complicity Machine'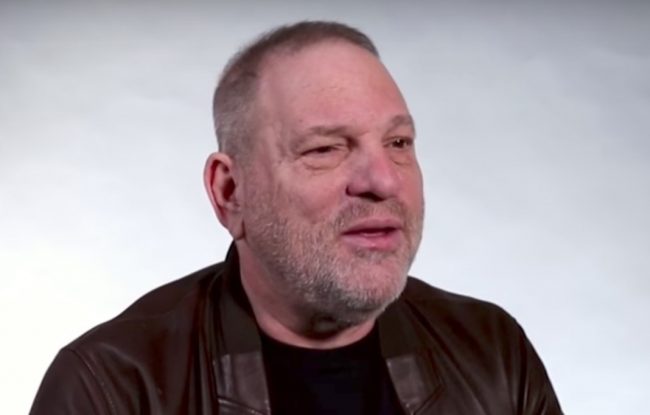 The New York Times has yet another bombshell report on Harvey Weinstein, this time looking at his massive "complicity machine."
The report was compiled from "nearly 200 interviews" providing an insight into this
Here are 5 big takeaways from the report:
1. C.A.A.
Actress Mia Kirshner told the Times that her agents at C.A.A. set up a meeting with Weinstein, but when she came to his hotel room, "his agenda was to exchange sex for career opportunity."
After telling her agent, Kirshner recalls how the conversation between them, her talent manager, and the talent manager's boss went down, saying, "I was told to forget about it; it was pointless to do anything about this."
The Times report says there were people at C.A.A. who knew about Weinstein's behavior but "agents there continued to arrange private meetings":
At C.A.A., at least eight agents had heard about Mr. Weinstein's behavior, largely from actresses they represented, but several former senior C.A.A. agents said they were unaware of it or any formal agency response.

In a statement, C.A.A. said it apologized "to any person the agency let down for not meeting the high expectations we place on ourselves." Like other agencies, it said it had begun revising its management structure to include more women and improve its sexual harassment policies.
2. A.J. Benza
The former New York Daily News gossip columnist is featured in the Times report as part of the "network of friendly journalists — gossip columnists, magazine writers, editors, and authors — whom the producer relied on to promote his entertainment empire and sometimes punish rivals or deflect threats."
And he had this to say to the Times:
By fall last year, Mr. Weinstein was trying to stop what he feared would be a story about the allegations against him by New York magazine. Once again, he called on Mr. Benza, meeting him at the Peninsula Beverly Hills that October.

Saying the magazine was "doing a Bill Cosby on me," Mr. Weinstein asked for help, Mr. Benza recalled. He said he did not believe at the time that the studio chief had abused women, and despite feeling a debt of loyalty, would not have knowingly participated in a scheme to silence victims.

He said Mr. Weinstein suggested that Mr. Benza pose as an author "writing a hit job,'' so he could call potential sources to learn what they were saying about the producer. Mr. Weinstein discussed paying Mr. Benza up to $20,000 a month and providing a list of contacts, Mr. Benza said, though the producer never followed through. Mr. Weinstein's spokeswoman denied that he had proposed the scheme.
3. Hillary Clinton
Clinton's past association with Weinstein was a big issue in the media weeks ago, but the revelations in this new report shine a bigger light on it.
And while the Times says "it is not clear if rumors of his record of sexual misconduct had ever reached" Bill and Hillary," two women whose names you might recognize said they warned people in Clinton's sphere:
In 2016, Lena Dunham, the writer and actress, said she was troubled by the producer's visible presence during Mrs. Clinton's presidential run, hosting fund-raisers and appearing at campaign events. She had heard stories, both directly and secondhand from other actresses, about disturbing encounters with him, she said. So in March last year, Ms. Dunham, a vocal Clinton supporter, said she warned the campaign.

"I just want you to let you know that Harvey's a rapist and this is going to come out at some point," Ms. Dunham said she told Kristina Schake, the campaign's deputy communications director. She recalled adding, "I think it's a really bad idea for him to host fund-raisers and be involved because it's an open secret in Hollywood that he has a problem with sexual assault."

Earlier, during the 2008 presidential race, Tina Brown, the magazine editor, said she cautioned a member of Mrs. Clinton's inner circle about him. "I was hearing that Harvey's sleaziness with women had escalated since I left Talk in 2002 and she was unwise to be so closely associated with him," Ms. Brown said in an email.
Schake and Clinton spokeswoman Adrienne Elrod, who Dunham says she also warned, "denied that Ms. Dunham mentioned rape."
Former Clinton communications director Nick Merrill put out a statement saying, "We were shocked when we learned what he'd done. It's despicable behavior, and the women that have come forward have shown enormous courage. As to claims about a warning, that's something staff wouldn't forget."
4. "Fellow executives helped mask Mr. Weinstein's behavior going back to 1990."
Per the Times:
That year, a 23-year-old assistant said he sexually assaulted her when she ran an errand at his home. Bob Weinstein worked on the confidential settlement, according to two people familiar with the agreement — the first of at least three he would be involved in over the years. In a statement, Bob Weinstein said he did not recall being informed of the initial settlement, and denied being aware that his money was used to pay off two other accusers.

After the episode with the young assistant, Harvey Weinstein confessed that he had done "something terrible," according to John Schmidt, then Miramax's chief financial officer. "I don't know what got into me. It won't happen again," Mr. Schmidt, in an interview, recalled Mr. Weinstein telling him. Mr. Weinstein denied having this conversation.
Amy Israel, former co-head of acquisitions at Miramax, says both Weinstein and his brother used "fear, intimidation, psychological and emotional abuse" on all of their executives.
And one former Weinstein Company employee says, "The first time I spoke out, the message from H.R. was, 'This is not our problem. The second time I spoke up the response was, 'How can we quickly make this go away?'"
5. The New York Times
The Times report reveals that Weinstein actually contacted the reporters who were working on their initial bombshell about him:
Minutes before The New York Times published the first allegations about Mr. Weinstein this fall, he called the reporters who wrote it. Swinging between flattery and threats, he said that he had ways of knowing who had cooperated with the investigation and the means to undermine it.

"I am a man who has great resources," he warned.
And those are only some of the revelations in this explosive report. You can read the whole thing here.
[image via screengrab]
— —
Follow Josh Feldman on Twitter: @feldmaniac
Have a tip we should know? tips@mediaite.com
Josh Feldman - Senior Editor