Rick Santorum: 'Mitt Romney Is In Bed With Barack Obama On Destroying' Churches And Hospitals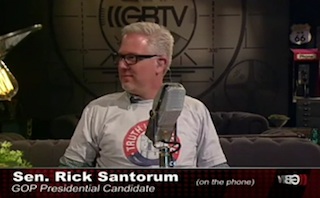 In the aftermath of the three bazillionth Republican debate Tuesday night, many of the candidates have taken to the airwaves to explain how and why their performance was the awesomest. Rick Santorum chose to go with GBTV for his message, making appearances on both Glenn Beck's TV show as well as radio show in the past day. While on the radio, he accused his rival Mitt Romney of being "in bed with Barack Obama."
Oh no! Mitt Romney and the President are in bed together? What's next? Bestiality?
Much of the conversation dealt with Santorum's claim during the debate that he had only endorsed Arlen Specter back in 2004 to get the (at the time) Republican Senator to support judicial appointees of President Bush, a claim that Specter has since denied. Santorum stood by his version of events as well as his choice and, instead, took after the man who had been attacking him with the Specter endorsement; Mitt Romney.
Santorum accused Romney of endorsing "liberal activist judges" while Governor of Massachusetts and knocked him for once saying he didn't like the policies of Ronald Reagan ("What?" exclaimed Beck. "Did he vote for Walter Mondale?"). However, when co-host Pat Gray brought up Romney's position on taking away the deduction on charitable donations of the upper 1%, Santorum really went on the offensive.
"This is Obama's plan! I talk about this all the time. Obama wanted to do this. This is a plan to destroy the mediating institutions in our society; the churches, the civic organizations, the hospitals, all the things that the government is now trying to take over and move the private sector and the nonprofit sector out by starving them and over-regulating them. Mitt Romney is in bed with Barack Obama on destroying these vital mediating institutions of our society by starving them of money from the very people that keep these organizations alive and well in our society."
Big allegation. Santorum would never get in bed with Obama like that. Heck, he wouldn't even kiss a guy.
Watch the clip from GBTV below:
Have a tip we should know? tips@mediaite.com