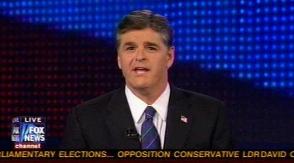 Fox News pulled the plug at the last minute on Sean Hannity's tea party show yesterday from Cincinnati because execs were unaware the appearance was being used to sell tickets to the event – but the story isn't over.
We hear execs at FNC, including CEO Roger Ailes, remain furious because they were blindsided by Hannity's staff.
Matea Gold of the Los Angeles Times reported yesterday that the network was planning "an extensive post-mortem about the incident with [EP John] Finley and Hannity's staff." We hear there are still post-mortems going on – in other words, this is far from over.
This afternoon, conservative commentator Debbie Schlussel wrote a lengthy blog post about the behind-the-scenes trouble Hannity and staff had gotten themselves into over the incident (via Johnny Dollar). We hear Schlussel's info was in line with what has been happening since late yesterday afternoon when FNC abruptly canceled the event and flew Hannity and staff back to New York. Here's part of Schlussel's post:
You have to read between the lines on the LA Times Hannity story and know the background. The order to cancel Hannity's Tea Party broadcast came from FOX News Chairman Roger Ailes, not Senior Vice President Bill Shine–a shameless Hannity toady.
Shine was quoted in the LAT story, saying, in part, "When senior executives in New York were made aware of this, we changed our plans for tonight's show."
Schlussel closes with, "Yes, the once-hot FOX News property, Sean Hannity, is not only self-destructing, he's proving to be a liability and a headache not worth the male diva prima donna act," and continues to speculate about Hannity losing his timeslot. That's overstating matters a bit.
But this incident does show something that extends beyond just Sean Hannity. This tea party event wasn't just a chance for Hannity to broadcast his 9pmET FNC show. He was there for his radio show, to maybe sell some books (and some future books), hell, even to gain some followers on Twitter (where he promoted the event yesterday…up until the plug was pulled). This incident shows what can happen when major FNC personalities put their personal interests and side projects ahead of Fox News. As FNC grows into the unmatched powerhouse it has become, so too have their big stars become that much bigger. Glenn Beck, Bill O'Reilly, and yes, Hannity.
This incident reflects poorly on Fox News, and the speed with which they clamped down on the matter shows how seriously they view the infraction. It also shows there could be more punishment ahead.
—–
» Follow Steve Krakauer on Twitter
Have a tip we should know? tips@mediaite.com