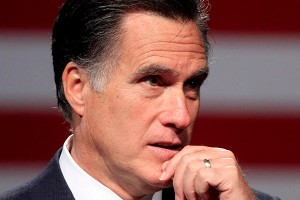 The tiring, seemingly endless GOP primary race may essentially be over, but general election campaigning still has a long way to go — and past gaffes are sure to be used as fodder in the process. Mitt Romney said as much in a conversation with the Wall Street Journal's Peggy Noonan.
His own mistakes, he said, are the ones "that make me want to kick myself in the seat of my pants," that "cause me to try and be a little more careful in what I say." Romney added, "I've had a couple of those during the campaign, which have haunted me a little bit, but I'm sure before this is over will haunt me a lot."
He offered, I like "being able to fire people" as an example — before going on to note how measured he has to be in his speech. "I have to think not only about what I say in a full sentence but what I say in a phrase," Romney said. In the current media environment, "you will be taken out of context, you'll be clipped, and you'll be battered with things you said."
In the same vein of media criticism, he added, "The media always says, 'Gosh, we just want you to be spontaneous,' but at the same time if you say anything in the wrong order, you're gonna be sorry!"
For better or for worse, Romney's right: his gaffes will haunt him over the next few months. Indeed, his campaign's already been unable to shake off fumbled words. Etch A Sketch is tossed around in political punditry ever since Romney adviser Eric Fehrnstrom uttered the comparison on cable news (granted that was an adviser, not Romney himself).
In addition to the aforementioned quote about firing people, there's been "I'm not concerned about the very poor. We have a safety net there" — which was a gift to those who argue Romney's out of touch with the middle class. Similarly, there's "Corporations are people, my friend" and "Ann drives a couple of Cadillacs actually." Then there's being friends with NASCAR owners. As well as others I've not mentioned here.
Elsewhere in the Noonan piece, Romney said he sees politics as a "sport for old guys." He added: "I can't compete in competitive sports very well, but I can compete in politics, and there's the—what was the old ABC 'Wide World of Sports' slogan? 'The thrill of victory and the agony of defeat.' The only difference is victory is still a thrill, but I don't feel agony in loss."
(H/T WSJ)
Have a tip we should know? tips@mediaite.com