Rose McGowan Likens Cable Coverage of Trump to Flint 'Poisoning Its Citizens'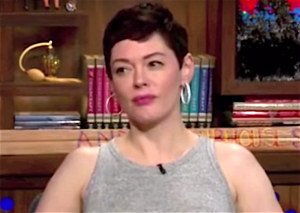 Rose McGowan is a popular actress who still has plenty to say when not reading a script. In fact, some of her most powerful work has been her own writing.
For example, she posted an open letter to, and we quote, "CNN FOX CBS ABC NBC VIACOM THE MURDOCHS AND DONALD J. TRUMP" this week that has been causing a commotion. (This is not her first controversial Facebook post, either.)
The letter takes GOP presidential nominee Donald Trump to task, yes, but more than that, it goes after the cable networks that McGowan thinks helped Trump rise to where he is.
This passage sums up the theme of the letter:
You all had a hand in this. You must take ownership of this situation.

You are causing a worldwide sickness. You are POISONING us as sure as Flint is poisoning its citizens. You are poisoning your very own family and us, your brothers and sisters.

This is real. We are sick. Living with your daily reign of terror cancer, and it is terror cancer, is something we are unwilling to do for another minute. I do not want to live my life this way. I am a proud AMERICAN & GLOBAL CITIZEN who's head is bowed to her knees in because she is sickened every day. Because of you. It is NOT most of America who should be ashamed, it is YOU for propagating this propaganda.
Bringing up the Flint water crisis was a bold move, since it is still going on and is affecting citizens every day.
She pleaded with them to stop covering him completely in order to make up for what they've done so far. It's been two days since the post's publication and there is no sign that any major broadcasting company has taken her advice.
[image via screengrab]
Have a tip we should know? tips@mediaite.com