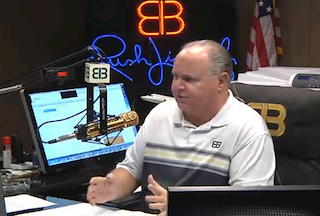 Rush Limbaugh wants to know why any Republicans at this point would want to do anything to make the Affordable Care Act more "palatable" for Americans. With the government shutdown two weeks old and the debt ceiling deadline just days away, the radio host marveled at why some Republicans appear willing to work with President Obama and the Democrats.
"I understand being hated, I understand the media this and the media that, I understand needing to go out and get votes," Limbaugh said, listing off various reasons why Republicans may be moving towards compromise with Democrats. But he did not understand why they always appear to "succumb" to those forces.
"Why do they want to amend Obamacare to make it more palatable for people?" he asked. Considering many of them got elected by promising to repeal the health care law, Limbaugh said, "apparently those were just campaign words to get to Washington."
"These are the same people who says it's going to implode on its own," Limbaugh continued. Paraphrasing Abraham Lincoln, he declared, "the best way to get rid of a bad law is to let it fully implement." If the GOP really wants a political victory, Limbaugh suggested they "back out of the way" when their opponents are "committing suicide."
Of course, Limbaugh's theory implies that Republicans are solely looking for a way to win the next elections, and not a solution that would actually help the American people.
Listen to audio below, via Rush Limbaugh:
[h/t Mofo Politics]
[photo via screengrab]
— —
>> Follow Matt Wilstein (@TheMattWilstein) on Twitter
Have a tip we should know? tips@mediaite.com