Ryan Lochte Speaks For First Time Since Rio Scandal: 'I Over-exaggerated That Story'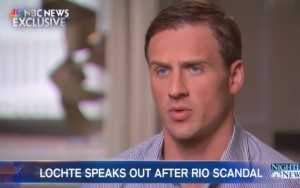 In the first part of a revealing sit-down with NBC's Matt Lauer, USA swimming champ Ryan Lochte admitted, "I over-exaggerated that story."
Lochte first told TODAY's Billy Bush on Sunday that he and three of his USA swimming teammates were robbed at gunpoint: Gunnar Bentz, Jack Conger and Jimmy Feigen.
"All we know was there was a gun pointed at our direction, and we were demanded to give money," he continued telling Lauer Saturday. "We just wanted to get out of there. There was a a gun pointed at our direction. We were frightened."
Lauer pressed to clarify the two drastically different accounts that have emerged: version one from earlier this week during a phone interview where Lochte said, "We are victims here." The second more truthful account seems to indicate that Lochte and his pals caused damage, and then were forced to pay money as a result.
"You were striking a deal," said Lauer, "…a negotiated settlement to cover up some dumb behavior."
"I overexagerrated that story. If I didn't do that, we wouldn't be in this mess… none of this would've happened it was my immature behavior," continued Lochte.
Lochte said on Sunday to Billy Bush:
"We got pulled over, in the taxi, and these guys came out with a badge, a police badge, no lights, no nothing just a police badge and they pulled us over. They pulled out their guns, they told the other swimmers to get down on the ground — they got down on the ground. I refused, I was like we didn't do anything wrong, so — I'm not getting down on the ground. And then the guy pulled out his gun, he cocked it, put it to my forehead and he said, 'Get down,' and I put my hands up, I was like 'whatever.' He took our money, he took my wallet — he left my cell phone, he left my credentials."
The Dirty Harry scenario described above wasn't exactly how things panned out evidently.
Details soon emerged that the accounts of the swimmers lacked consistencies. As the week wore on, two of Lochte's teammates were forced to stay in Brazil and answer further questioning about the incident after having their passports taken a way when they were removed from a flight. One teammate later admitted that they stopped at a gas station near Olympic Park and urinated on the side of a building; Lochte allegedly yanked a "framed metal advertisement" from a wall, in addition to reportedly causing damage to a nearby restroom.
Two security guards, with badges and guns drawn, then pulled over the taxi that the Olympians were riding in. "Again, I cannot speak to his actions, but Ryan stood up and began to yell at the guards," Bentz Gunnar Bentz later said. "After Jack and I both tugged at him in an attempt to get him to sit back down, Ryan and the security guards had a heated verbal exchange, but no physical contact was made."
The 32-year-old swimmer added one gold medal during his Rio games this year, and has 12 medals overall.
Watch the above interview from NBC Nightly News.
—
[image via screengrab]
Have a tip we should know? tips@mediaite.com