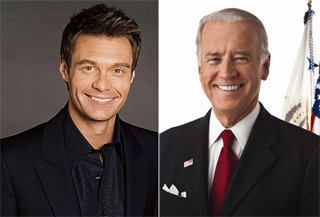 Joe Biden has been all over the country recently, promoting an effort to help make college more affordable for the nation's students. His next step in that mission was made clear today as it was announced that the Vice President will be stopping by Ryan Seacrest's radio show, On Air with Ryan Seacrest this coming week.
Whether or not Biden's next next step is to Hollywood will presumably be decided by Simon Cowell.
Just kidding. In all seriousness, Biden will be appearing on the show next Monday at 7am PST and will spend his time answering questions from college kids and aspiring college kids. Students are invited to submit their questions to Seacrest's Facebook page.
Now the only trick is finding a way to wake college kids up at 7am on a Monday morning.
From RyanSeacrest.com:
"Over the years Ryan Seacrest has had the privilege of interviewing several major political figures including: President Barack Obama, First Lady Michelle Obama, Secretary of State Hillary Clinton, Former President Bill Clinton, Mayor of Los Angeles Antonio Villaraigosa and Former Senator Ted Kennedy.

On Monday, January 23, 'On Air with Ryan Seacrest' will welcome special guest Vice President of the United States Joe Biden.

At 7:00am PST, the Vice President will join the top-rated, Los Angeles morning drive radio show to answer questions from college students submitted via Ryan's Facebook page.

The Vice President has been touring the nation holding Town Hall meetings in an effort to discuss the administration's efforts to educate students on how to make college more affordable and student debt more manageable. The Vice President told students in Florida, 'A college education is almost a prerequisite or a ticket to the middle class. It's also a prerequisite if we're going to lead this world again.'

Are you a struggling student with a question for the Vice President? Do have questions about the economy, jobs, or financial aid? The Vice President wants to hear from you!"
(h/t Politico)
Have a tip we should know? tips@mediaite.com