New Republican 'Lean Backwards' Ad Mocks Rachel Maddow's Hoover Dam Commercial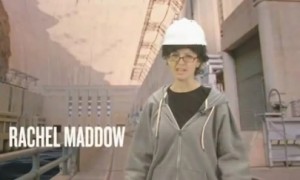 The National Republican Congressional Committee has released an ad, in support of the Keystone XL pipeline, that parodies one of MSNBC's latest "Lean Forward" commercials. The spot features a bad Rachel Maddow stand-in (in an even worse wig) mimicking the progressive star's Hoover Dam monologue, then pivots to a thudding comparison with the Keystone pipeline, complete with wildly inflated claims about the number of jobs the pipeline would supposedly create.
The ad, entitled "Lean Backwards," uses the Maddow Hoover Dam spot as its template, and claims that the Keystone pipeline will "provide energy security and up to 130,000 jobs."
That figure is wildly in excess of even the 20,000 jobs number quoted by TransCanada, the company that wants to build the pipeline, and even that figure is inflated; 6,000 of those jobs are counted twice (based on 1 job year each for two years of construction), and many of the other indirect jobs they counted won't even be created in the U.S.
The ad does correctly point out that the pipeline enjoys some support from Democrats and labor unions, but doesn't mention the significant environmental risks involved. This isn't a question of whether some beavers might be put out of their habitat; the Keystone pipeline poses a threat to one of the world's largest aquifers, which supplies irrigation and drinking water to eight states.
Republicans used the extension of the payroll tax cut as leverage to extract a concession from President Obama that he would render a decision on the Keystone pipeline within 60 days.
Ironically, the use of MSNBC's talent and slogan in the NRCC's parody is something of a vindication for the "Lean Forward" campaign. Begun in late 2010, the Spike Lee-helmed campaign became an immediate subject of mockery and parody, and more importantly, was seized upon by the network's competitors, who built campaigns of their own centered on the MSNBC spots. A little more than a year later, the slogan, and the commercials, have reached near-iconic status, achieving a recognition factor that rivals Fox News' "Fair and Balanced" mantra.
Here's the NRCC's "Lean Backwards" ad, via YouTube:
Have a tip we should know? tips@mediaite.com