S.C. AFL-CIO Leader Caught Smashing Gov. Nikki Haley Piñata With Baseball Bat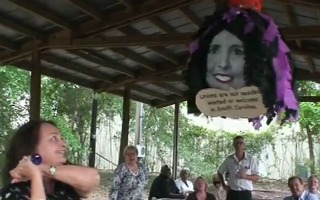 The head of the AFL-CIO in South Carolina, Donna Dewitt, was recently captured in a video uploaded to YouTube bashing a piñata with a picture of Republican Gov. Nikki Haley's face on it. The labor leader told the press that the incident was "all in fun," but she has drawn criticism from even the governor herself.

RELATED: Nikki Haley Fears False Indictment Story Ruined Her Reputation
ABC News reports that the piñata that was being smashed bears the phrase "Unions are not needed, wanted or welcome in South Carolina."
"Well I will say, she looks like a tough old girl here," says Dewitt as she takes aim at the piñata.
Dewitt has been president of the South Carolina AFL –CIO for 16 years and is scheduled to retire at the end of June.
ABC News spoke with Dewitt who said that the event is being blown out of proportion and her intentions were entirely innocuous. "Kids use piñatas all the time," Deeitt told ABC News' Arlette Sanez.
They made it and I would have played the game with them no matter it would have been pin the tail on the donkey with Nikki Haley's face on it. I still would have played," Dewitt told ABC News over the phone. "There was no ill intent. We were certainly have a good time. I'm not mad or angry."
The National Review's Katrina Trinko also spoke with Dewitt on Tuesday who asked the outgoing labor leader if she had any regrets about the incident. Dewitt replied, "I don't regret it."
"As you can see, I'm not vicious, I'm not hateful," Dewitt adds. "I think if we'd had a donkey and played pin the tail on the donkey with her face on it, I guess, it's a children's game and I guess people would have gotten upset about that. There was certainly no viciousness. It was all in fun. Although she has bashed unions for quite some time."
Haley herself weighed in on the controversy on her Twitter account. She sent out the video in question and wondered whether some might take Dewitt's actions more seriously than she does.
Watch the video below:
h/t ABC News
Have a tip we should know? tips@mediaite.com