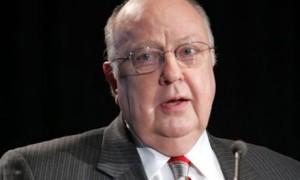 Fox News chairman Roger Ailes today expressed regret over having referred to New York Times reporters as "lying scum." Ailes had made the comment yesterday during a speech at his alma matter, Ohio University.
RELATED: Roger Ailes: Jon Stewart 'Basically Has Admitted To Me, In A Bar, That He's A Socialist'
As the Daily Beast reports, Ailes' issue with the NYT is more about a specific report than a general dislike of its reporting style or staff:
A senior Fox News executive says Ailes realizes he went too far and regrets using that language.

In fact, the executive says, Ailes believes the Times has been fair to Fox under its new executive editor, Jill Abramson. Ailes has gotten to know Abramson over the years and respects her as an editor.

So why did Ailes go off like that, other than his tendency to sometimes get carried away when critiquing what he sees as the left-wing media?

Ailes is still ticked off at one particular Times reporter, Russ Buettner. In an article last year, Buettner reported that Judith Regan, who had been fired by HarperCollins (which, like Fox, is owned by Rupert Murdoch), had identified the company executive who once urged her to lie. That executive, the article said, was Ailes.
Indeed, in that February 2011 article, Buettner had written that "court documents filed in a lawsuit make clear whom Ms. Regan was accusing of urging her to lie: Roger E. Ailes, the powerful chairman of Fox News," noting also that Regan had taped a conversation with Ailes.
"It is unclear," Buettner continues, "whether the existence of the tape played a role in News Corporation's decision to move quickly to settle a wrongful termination suit filed by Ms. Regan, paying her $10.75 million in a confidential settlement reached two months after she filed it in 2007."
h/t Daily Beast
Have a tip we should know? tips@mediaite.com