Scandal?! Dan Abrams and Dave Zinczenko Not Joining In Uptown "Crown" Restaurant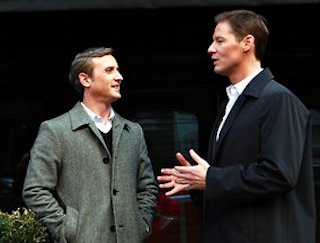 Here at Mediaite we don't write about, much less care too much about, fancy-pants restaurants, even those deemed to be "media" hangouts and especially those considered "hot spots." So last year when our founder Dan Abrams and other media guy Dave Zinczenko helped launch The Lion restaurant, we yawned publicly while secretly imagining a new Mediaite clubhouse, sort of like a real-life version of Cheers only with powerful media figures playing the part of regulars.
You know the scene….we would be tending bar (with razor sharp comedic timing); maybe Roger Ailes would show up each night as the curmudgeonly-yet-cuddly common sense guy alongside George Stephanopoulos or Rachel Maddow with their charmingly know-it-all selves. No question, the foppishly droll (or is it drolly foppish?) Piers Morgan would probably be a regular as well. We would have a good time while gathering stories for the site, and perhaps even learning a little about ourselves. And there would be a laugh track.
Alas, while all those people probably went there, we didn't see them and The Lion never became the Mediaite version of the Algonquin round table (which is a shame because I do a stunning Dorothy Parker impersonation.) We did all get to go out to dinner there on Dan's dime one time, which was pretty remarkable given how hard it often is to get Dan to spend money.
Regardless, any entree to having him pay for our entrees (and not pizza in our conference room) is welcomed. So when we read that the "team behind the Lion" was set to open a new place on the Upper East Side we thought, maybe this will be the place! We even suggested that Dan take his hard working staff out again to celebrate our ridiculously amazing traffic after just two years at his brand new joint!
When we brought it up last week, we were surprised to learn that it was yet another dream dashed, but this time for a different reason: Dan casually responded that he and other co-owner Dave were not actually involved in this new establishment called Crown. Huh? Wait, aren't Dave and Dan the key players in the "team behind The Lion"? And so isn't it pretty newsworthy (in our tiny micro media world), that this "team" is going uptown without them?
While Dan didn't seem to think so, we kind of do. After all, haven't we read about some conflict between the "D's" and some non-media, non-fabulous investors? 

So rather than have some other entity scoop us on "news" connected to our founder, we insisted on some answers from Dan (and politely requested them from Dave) and received the following responses:
From Dan: "I am very proud of the enormous success we continue to have at The Lion and am confident it will thrive for years to come. Dave and I are pursuing another exciting restaurant project downtown and you will be the first to know if and when I have an announcement to make. Now get back to work."
From Dave: " I have nothing but admiration for John DeLucie and our other partners, and I look forward to sharing our successes"
Blah blah blah. Bottom line, Dan and Dave are probably starting their own restaurant thing downtown, while Crown will try to cater to an Upper East Side crowd. Great so this time around will the BFF's create a media place for us to eat and drink too much and where "everyone knows our name?" We aren't counting on it.
Have a tip we should know? tips@mediaite.com