School Board Calls on Carl Paladino to Resign Over Racist Comments About the Obamas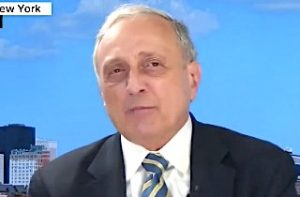 Last week, former New York gubernatorial candidate Carl Paladino made headlines over an interview where he made overly racist comments about First Lady Michelle Obama and stated that he wished President Barack Obama would die of mad cow disease.
Paladino, who was President-elect Donald Trump's New York campaign chairman and worked as a surrogate during the election, eventually gave a half-hearted apology for his remarks, claiming he was "wired up" due to Obama's response to Aleppo. This was after quite a bit of outcry over the comments, including from Trump's team and his own son.
Well, it appears the fallout over Paladino's comments will include him getting booted from the school board he serves on. The Huffington Post reported that the Buffalo Board of Education voted 6-2 on a resolution for Paladino to resign within the next 24 hours or they will petition the state to remove him.
Apparently, Buffalo residents are also unhappy Palidino's actions, gathering to protest downtown and at a school board meeting. The board considered the resolution and read it aloud today to applause from those gathered.
The resolution, introduced by board member Hope Jay, called Paladino's remarks about the Obamas "unambiguously racist, morally repugnant, flagrantly disrespectful, inflammatory and inexcusable." It also said they reflected negatively on "the Buffalo Board of Education, the City of Buffalo and its leadership and its citizens, the State of New York, and every decent human being in America and abroad who has been shocked and offended by his words."

When Jay read her resolution Thursday at the school board's special session, the crowd gave her an enthusiastic standing ovation.
The two board members that didn't support the resolution stated that they'd prefer Paladino to apologize to the district's students rather than resign.
Calls for Paladino's ouster from the board have been growing louder and louder. Aside from today's protest, the Buffalo Common Council has come out in favor of Paladino's resignation and more than 20,000 have signed a petition demanding the state's Education Commissioner remove him.
[image via screengrab]
–
Follow Justin Baragona on Twitter: @justinbaragona
Have a tip we should know? tips@mediaite.com