Scott Brown On Elizabeth Warren 'Keeping Her Clothes On' During College: 'Thank God'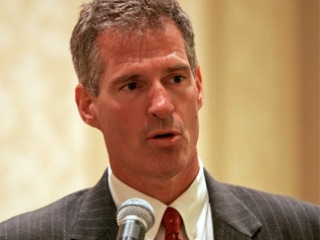 You'd think that, with the sheer amount of advice and media training candidates are given, they'd have learned, by now, to think just a little bit more before they offer sound bites that will then be repeated over and over, particularly as they gear up for a campaign or election.
First, some background: During the Massachusetts Senate debate earlier this week, the moderator referenced the fact that Republican Senator Scott Brown had posed nude in college in order to pay for his education. The debate participants were then asked they had done to help pay for their respective schools. Democratic candidate Elizabeth Warren reacted to the moderator's comments by joking that "I kept my clothes on" while in college.
Brown was asked about Warren's reaction today on a local Massachusetts radio show. The Washington Post offers the following transcript:
INTERVIEWER: Have you officially responded to Elizabeth Warren's comment about how she didn't take her clothes off?

SCOTT BROWN: [LAUGHTER] Thank God.

INTERVIEWER: [LAUGHTER] That's what I said! I said, "Look, can you blame a good-looking guy for wanting to, you know…"

SCOTT BROWN: You know what, listen: Bottom line is, you know, I didn't go to Harvard. You know, I went to the school of hard knocks. And I did whatever I had to do to pay for school. And for people who know me, and know what I've been through, mom and dad married and divorced four times each. You know, some real challenges growing up. You know, whatever. You know, let them throw stones. I did what I had to do. But not for having that opportunity, I never would have been able to pay for school, and never would have gone to school, and I wouldn't probably be talking to you. So, whatever.
WaPo has also published a reaction from Massachusetts Democratic Party executive director Clare Kelly:
Sen. Brown's comments are the kind of thing you would expect to hear in a frat house, not a race for U.S. Senate. We keep waiting for Scott Brown to take his campaign out of the gutter, but unfortunately it seems like the junior senator has determined that mudslinging and dirty tricks are the only way he can distract Massachusetts voters from his record of voting in lockstep with Tea Party Republicans. Scott Brown's comments send a terrible message that even accomplished women who are held in the highest esteem can be laughingly dismissed based on their looks.
That sound? That's the clanking and groaning of a serious political discussion being completely derailed, first by a silly and distracting reference made during a debate. and then by a thoughtless reaction to that initial silliness.
You can listen to the audio of the interview below, via WBZ Boston:
h/t Washington Post
Have a tip we should know? tips@mediaite.com