Scott Brown To Write Memoir Before Most Interesting Chapter Of His Life Happens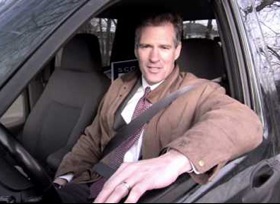 Massachusetts Sen. Scott Brown will write a memoir scheduled for release next year. The Senator, who succeeded the late Ted Kennedy and is the first Republican Senator from the state since 1972, will be focusing on his "family background" and career leading up to his victory in January's election. But given that all most people want to hear about is that saucy 1980s photo shoot in Cosmopolitan, how will the memoir keep people interested?
Brown is being published by HarperCollins, who profited greatly from "going rogue" with Sarah Palin last fall, and is edited by Tim Duggan. Given their experience with Palin, the company should be able to spot a bestselling conservative success story when they see it, and they believe they do— the publisher called his Massachusetts victory "one of the biggest political coups of the decade" and a story of "courage, persistence, and hope." They're describing the final product as part autobiography, part policy commentary and SVP Jonathan Burnham noted he hoped it will be inspirational for others with similar histories. And, just in case, the book deal will have to be approved by the Senate Ethics Committee before HarperCollins follows through.
Scott Brown writing a book about his experience sounds like a great idea– in 2016. It is difficult to imagine Brown will have much of interest to share at this point in his career, colorful though his youth may have been. Sure, Palin wrote almost 600 pages on a failed VP bid, but she also had experience as a city- and state-level executive to draw on. Brown will be going into the writing process with a famous Cosmo photo shoot and some state legislature experience under his belt that will pale in comparison to what awaits him as a moderate Republican Senator in the current political climate. Even if his background is fascinating, why read a book about his past when cable news will provide us constant coverage of his present, which promises to be one of the most interesting senate tenures of his generation? He has already faced the wrath of conservatives on Facebook and raised eyebrows on the Tea Party circuit for his policies– and he just finished his month #1.


Have a tip we should know? tips@mediaite.com