Scottie Nell Hughes Says Hillary Is Tearing Down Men, Declares That There Is No Glass Ceiling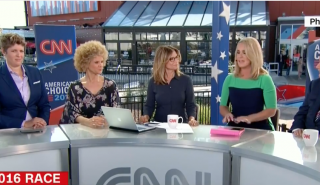 Yesterday, the Democratic Party nominated Hillary Clinton as its nominee, marking a historic achievement in the advancement of women's rights. While many were overjoyed by that remarkable victory for women, some were quick to disparage Clinton for her comments at the end of the DNC's second night. Trump supporter Scottie Nell Hughes was one of those people, and she quickly pointed out what Hillary did not say.
"Hillary Clinton, when she was in that room of girls, said if you're a daughter or if you're a girl you could be president too. This would have been an excellent opportunity to say, 'You know what, whether you are a boy or a girl, both of you, my job will be to make sure it's equally an option for both of you," Hughes said on a CNN Panel.
Hughes went on to say that if women are voting for Hillary Clinton just because she is a woman, they are "sexist."
"That's the problem. We've continued to say we want equality, we want equal but we then tear down one group and tried to build up another. That's what I heard last night," she added.
Finally, Hughes ended with a remark that surprised nearly everyone on the astonished panel.  After being asked if comments praising girls are always disparaging to boys, she made several comments including this one: "There was never a glass ceiling. If there was a glass ceiling, we ignored it, we put our time in to it, we're not here because of a glass ceiling," Hughes remarked.
—
[image via screengrab]
Have a tip we should know? tips@mediaite.com