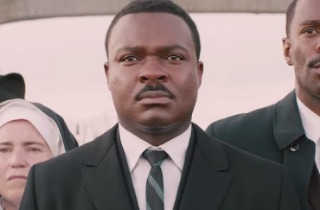 The nominations for the 87th Academy Awards came out Thursday morning, and among the biggest narratives to emerge: Selma got snubbed in multiple categories, earning only a "pity nomination" for Best Picture.
The biopic film about Martin Luther King, Jr., earned only a few nominations, most notably for Best Original Song ("Glory") and Best Picture. Noticeably absent, however, are nods for Ava DuVernay's directing, Paul Webb's screenplay, and Bradford Young's cinematography.
Comedian Patton Oswalt took note of that and commented thusly:
"SELMA? One of the best pics of the year. But the directing, script, all the acting, & cinematography? Meh.

Nice song, though."

— Patton Oswalt (@pattonoswalt) January 15, 2015
Slate writer Jamelle Bouie pointed out the Best Director snub:
I'm not sure SELMA was the best movie of the year. But as per @devincf, its Bloody Sunday scene alone should put @AVAETC in "best director."

— Jamelle Bouie (@jbouie) January 15, 2015
Some have suggested Selma would be snubbed due to its "historical inaccuracies," a point which many found laughable, given the Academy's history of selections:
Films with "historical inaccuracies" that have received #OscarNoms
Gone with the Wind
Gladiator
Titanic
Spartacus
Lawrence of Arabia

— Wyeth Ruthven (@wyethwire) January 15, 2015
Others think the Academy just has no sense of diversity when it comes to its selection choices:
It was a big year for white actors in Hollywood. #OscarNoms pic.twitter.com/ut1UK2aquz

— Nu Wexler (@wexler) January 15, 2015
The lack of diversity in the Academy Award nominations is incredibly depressing.

— Marc Schiller (@MarcDSchiller) January 15, 2015
Forbes film critic Scott Mendelson expressed outrage over the snubs, writing:
I am angry both because she deserved a nomination. I am angry because if the legacy of DuVernay's Selma becomes shaped by its Oscar-season controversy, I fear that it will affect the artistic opportunities afforded to its African-American female director in a manner different than if Selma would have come under fire under the directorial lens of a white male filmmaker.
CNN's Don Lemon wasn't thrilled either:
No #DavidOyelowo @TheAcademy?! #SelmaMovie pic.twitter.com/zD3CpHZihN

— Don Lemon (@donlemon) January 15, 2015
No @AVAETC? What the what @TheAcademy?! #Oscars2015 #SelmaMovie pic.twitter.com/MGtqfbCEuu

— Don Lemon (@donlemon) January 15, 2015
Some, however, were more resigned:
Worth remembering that Oscar voters are 93% white, 76% male with average age of 63.
(h/t @latimes)

— Bill Weir (@BillWeirCNN) January 15, 2015
See more of the Twitter reaction here.
— —
>> Follow Andrew Kirell (@AndrewKirell) on Twitter
Have a tip we should know? tips@mediaite.com