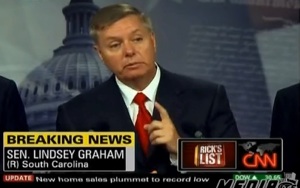 Now that President Obama has decided to accept General McChrystal's resignation (replacing him in command with General David Petraeus), the political fallout from this entire story is starting to reveal itself. And today's emotional comment by Senator Lindsay Graham (R – SC) might be an indication that some on the right see this story as transcending traditional political tropes.
Graham, who currently serves as a senior instructor at the Air Force JAG school, harshly criticizes McChrystal and his staff for their lack of judgment in speaking so candidly with a Rolling Stone reporter, and also openly asks if there may be further inquiry into other officer's comments which he clearly viewed as insubordinate.
Graham said:
The statements of the General not only were outside the norm, they really did put in question military subordination to civilian control. How do you think Rolling Stone is a good group to have follow you around for a month is a judgment question.

The second thing is — let me just say this to these officers who are unnamed, to these officer who are unnamed…I understand you're warriors and you've been shot at and you're brave. But you let yourself and your Army down. The language used, the cavalier attitude, the disrespect, even though you may have disagreement, was unacceptable.

This is a low point, in my view, for the Armed Forces in a very long time. And I am glad the president made this decision. And some other officers need to be looked at.
The following clip of Graham's comments appeared on CNN's Rick's List and was reported by CNN's Capital Hill reporter Dana Bash.
Have a tip we should know? tips@mediaite.com