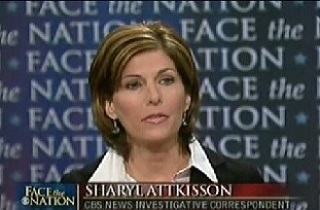 Former CBS News investigative reporter Sharyl Attkisson will testify at a Senate Judiciary Committee confirmation hearing on Wednesday for President Barack Obama's attorney general nominee Loretta Lynch, according to the list of witnesses.
Attkisson, who filed a lawsuit against the Obama Administration for allegedly hacking into her computer, will be joined at the hearing by George Washington University law professor Jonathan Turley, who has been critical of the president's exercise of executive powers, and Catherine Engelbrecht, the founder of True the Vote — a group that was allegedly targeted by the IRS when it was seeking tax-exempt status. With those names, the hearing will likely focus on Eric Holder's time at the Department of Justice and will renew conservatives' criticisms of Holder and Obama.
In her book, Stonewalled, Attkisson alleged that a "government-related entity" had planted classified documents on her computer in an attempt to go after her for her reporting that was critical of the Obama Administration. To back up that accusation, in October, she released a disturbing video showing an unknown entity scrolling through her documents and deleting large segments. And in emails released last November, a Department of Justice press aide called Attkisson "out of control." She resigned from CBS News last March, citing a liberal bias at the network.
Attkisson, who now contributes to conservative site The Daily Signal, won an Emmy Award for her reporting on the DoJ's "Fast and Furious" operation.
The Senate Judiciary Committee is chaired by Sen. Chuck Grassley (R-IA).
[h/t The Hill]
[Image via screengrab]
— —
>> >>Follow Andrew Desiderio (@forza_desiderio) on Twitter
Have a tip we should know? tips@mediaite.com