Joan Rivers' Daughter Files Wrongful Death Suit Against Clinic Where Mom Died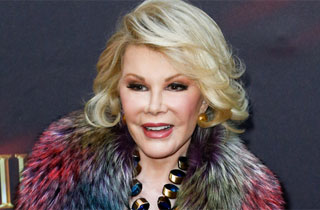 Melissa Rivers, the daughter of comedian Joan Rivers, filed a lawsuit yesterday against the endoscopy clinic that she claims the wrongful death of her mother.
According to a report obtained by the New York Daily News, Rivers, who fell into a coma after a botched endoscopy that cut off her oxygen supply, could have survived had the doctors at Yorkville Endoscopy Clinic done their jobs instead of snapping photos of her while she lay comatose, and ignoring signs that Rivers was quickly losing oxygen and her throat was swelling.
"The level of medical mismanagement, incompetency, disrespect and outrageous behavior is shocking and frankly almost incomprehensible," Rivers said in a statement. "Not only did my mother deserve better, every patient deserves better,"
The lawsuit outlines some rather outrageous claims of gross incompetence:
During the procedures, doctors ignored the concerns of the acting anesthesiologist, who urged caution after noticing "incredible edema," or swelling, in Rivers' throat.

Anesthesiologist Renuka Bankulla suggested taking an internal picture to gauge how bad the swelling was, the suit said.

"You're being paranoid … You're such a curious cat. You always need to see everything," the lead doctor, Lawrence B. Cohen, told her, before proceeding over her objections, the suit said.
Or that the doctor who operated on Rivers wasn't authorized to perform surgery at the clinic, but was such a celebrity doctor that the clinic's director took photos of him operating on Rivers:
As [celebrity ear-nose-and-throat specialist Gwen Korovin] began inserting the scope for a second time, Cohen started taking cell phone pictures of the celebrity doctor at work, the lawsuit alleged….

[Investigators] also learned that he took a picture of Korovin with her heavily anesthetized patient in the operating room and that the anesthesiologist, Renuka Reddy Bankulla, appeared to have given Rivers more Propofol as her vital signs were slipping.
Though they fired the director of the clinic, Yorkville Endoscopy could lose its medical accreditation in March should their practices fail to satisfy investigators's standards.
"Had the doctors acted as physicians for Joan Rivers instead of groupies, Joan Rivers would have been doing 'Fashion Police' last week," said Jeffrey Bloom, a lawyer at Gair, Gair, Conason, Steigman McKauf, Bloom and Rabinowitz, the firm representing Melissa.
[NYDN]
[Image via Shutterstock]
—
>> Follow Tina Nguyen (@Tina_Nguyen) on Twitter
Have a tip we should know? tips@mediaite.com