Shotgun Vetting: President Obama Reveals 'We Do Skeet Shooting All The Time' At Camp David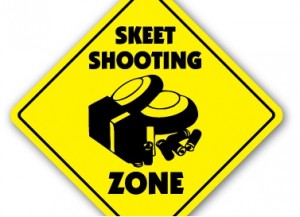 The New Republic is out with a two-on-one sitdown between President Obama and TNR editors Chris Hughes and Franklin Foer, an interview which covered a wide range of topics. One nugget from the interview that's sure to get attention is President Obama's revelation that he's quite experienced at shotgunnery. Asked, by Foer, if he had ever shot a gun, the President replied "Yes, in fact, up at Camp David, we do skeet shooting all the time."
From The New Republic:
FF: Have you ever fired a gun?
Yes, in fact, up at Camp David, we do skeet shooting all the time.

FF: The whole family?
Not the girls, but oftentimes guests of mine go up there. And I have a profound respect for the traditions of hunting that trace back in this country for generations. And I think those who dismiss that out of hand make a big mistake.

Part of being able to move this forward is understanding the reality of guns in urban areas are very different from the realities of guns in rural areas. And if you grew up and your dad gave you a hunting rifle when you were ten, and you went out and spent the day with him and your uncles, and that became part of your family's traditions, you can see why you'd be pretty protective of that.

So it's trying to bridge those gaps that I think is going to be part of the biggest task over the next several months. And that means that advocates of gun control have to do a little more listening than they do sometimes.
The revelation may come as a surprise to the President's supporters and detractors, and seems designed, as the President said, to bridge the gap between him and those hunters and sportsmen who may be suspicious of the sensible gun regulations that the administration is trying to get passed in the wake of the horrific shootings at Sandy Hook Elementary School.
Vice President Joe Biden also spoke recently about his own skeet-shooting experience, telling a group of sportsmen, at one of his task force meetings, that "I'm no great hunter, it's mostly skeet shooting for me—I don't quite understand why everybody would be afraid of whether or not we determine what is happening."
Neither the President or the Vice President vouched for their respective skill at shooting sports, but perhaps, the next time someone like Ted Nugent wants to pop off, the whole thing can be settled with a Skeet-off.
This is an opinion piece. The views expressed in this article are those of just the author.