Simple, Fabulous Acoustic Lady Gaga Medley By Two College Kids Kills On YouTube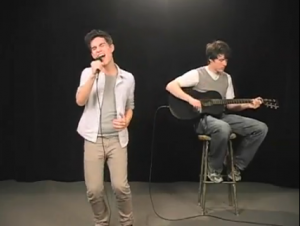 My new favorite song — played and replayed umpteen times over the past day is a simple, fabulous acoustic-guitar Lady Gaga medley by Sam Tsui and Kurt Hugo Schneider. Heard of them? Maybe not, but 1,231,924 plays on YouTube says a whole lot of people have. Actually, they've got MILLIONS of plays on YouTube for their various performances. Who ARE these guys?
They are…college kids at Yale. And they are REALLY talented. Sam is the singer, Kurt plays guitar (and helpfully provides all the chords) and together they do some great stuff, in that simple format — or as an a cappella group, with Sam singing all the parts (like this a cappella medley of Michael Jackson songs that got 3,826,503 views) (!), or in their original (and ridiculously well-produced) web series, "College Musical." Yes. Really. They're awesome.
Take the Gaga medley below. They have hit on an arrangement that does exactly what you want a good cover to do: Deliver everything you love about the original yet make it fresh and singular. The simple guitar chords give it a much more raw and edgy sound (there's a little bit of Melissa Etheridge in there around the middle on some "Poker Face") and Tsui's clear, smooth voice takes on a little gravel here and there where it's warranted. The arrangement is smooth and the execution is seamless. For someone whose music is so produced and sampled (Ma-ma-ma-ma) Gaga's music works exceptionally well in this set up (we've seen her do acoustic so we know that, but still. I think she'd like this version — especially since she was once a plucky college kid similarly plying her wares). Watch below:


This is my favorite of their stuff — yes I've given their other songs umpteen listens, too — perhaps because it's the most original (which might have to do with the fact that it's the most recent, or that Gaga gives everyone a license to play around). Here's a partial list of their other stuff, done more in the earnest, fresh-faced, unironic style of the Glee generation: "Halo" by Beyoncé (870,359 views), "Breaking Free" from High School Musical (329,532 views), the Glee version of "Don't Stop Believing," again a cappella (3,520,387 views – 3.5 million! – do you know how many "Don't Stop Believing covers there are out there?!?), the Michael Jackson medley that topped it (3,826,503 views), "You and I Both" by Jason Mraz (409,005 views) and "Before the Storm" by Miley Cyrus and Nick Jonas, in which Tsui sings both parts in an amusing bit of post-production magic (266,256 views). He sings the guy part, the girl part — here's "Thinking of You" by Katy Perry (262,278). Again, who ARE these guys?
They are….very talented kids with a lot of time on their hands (oh, to be in college again), and the precision-like focus to execute these projects incredibly professionally and with exceptional quality. The sound is flawless, the backing arrangements perfect, well done but never distracting, the music super-easy listening and the people all look like they stepped out of the CW. Their "College Musical" web series falls a little short of Blair and Chuck, but it definitely has its moments, moves along swiftly and looks amazing (Views: CM 1 – 411,463; 2 – 188,062; 3 – 225,168; 4 – 721,970). "I Wanna Bone My TA" is not subtle, but hey, it IS college — and they do still manage to keep it all rather sweet and innocent. It actually has the feel of iCarly or Hannah Montana (they will probably hate to hear that, cool college kids though they are, but there is nary a rough edge in sight, and again, they're all so pretty). But think of what YOU were doing in college. Yeah. I'm jealous too.
They've already been featured on the Bonnie Hunt show (see here) (which probably helped the YouTube numbers, but these kind of numbers comes from something much more). The kind of "more" that changes the game, and once again shows that lowered barriers to entry coupled with talent and hard work can lead to a consistent product and — the key — a consistent audience. Given the astronomical numbers Schneider and Tsui have already, I may even be telling you something you already know — but looking at what this talented duo and their friends produce, I can't see any way that we won't be hearing more about them really, really soon.
p.s. They are also INEVITABLE nerd pinups: Sam is majoring in Classical Greek and Kurt is majoring in Math. DISNEY WHY HAVEN'T YOU SIGNED THESE GUYS YET?!? Boys, whatever they offer you, hold out for double. You're worth it.
p.p.s. A few of the videos by Sam and Kurt mentioned above here.
Hat tip to Kevin Gotkin, from whose Twitter feed I discovered all this.
Have a tip we should know? tips@mediaite.com