Singles Site Vowing to 'Make Dating Great Again' Sees Post-Election Membership Spike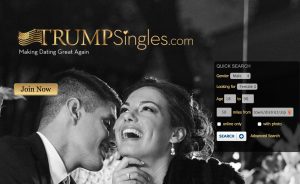 As with politics, there are two "parties" in post-election dating: The party for people who want to get together and, uh, celebrate and those who are looking for someone to comfort them after a loss. This year, we told you about two different sites that would help you find your perfect post-election bae, no matter where you stood politically: Maple Match and Trump Singles.
Though one functions as a way for devastated voters to meet Canadians they can marry in order to get out of Donald Trump's America and another is designed for people who love Trump, they both use the slogan "Make dating great again." Trump Singles, however, has reportedly seen a rise in memberships, so let's look deeper into that.
Trump Singles is the work of former reality TV coordinator Dave Goss, who told The Hollywood Reporter that "business is great" now that the election is over. In the days and weeks leading up to November 8, there had been a dip in membership on the site, which aims to provide  "safe space" for Trump fans looking for love. Some days saw no new members at all. Since Trump's win, though, all of that has changed.
"We never expected him to win — at least I didn't," he said, revealing he'd been worrying about his post-election job prospects because he assumed he'd need to shutter the site. "When he actually won, all the thinking and plans went out the window. It made my life easier."
Goss is a Republican who voted Trump, but he knows that not everyone feels like he does. He said, "It's been working out for some people. I'm so glad we have something out there to help people find each other. For some people, going on dates and finding out that they supported Trump was a deal killer. That's not the case for our users."
[image: screengrab]
Have a tip we should know? tips@mediaite.com