'We Have Put White Supremacy Into the White House': CNN Commentator Rails Against Trump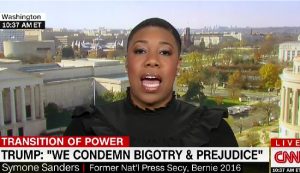 During a panel discussion on CNN this morning, the conversation got a bit heated after one panelist made the claim that President-elect Donald Trump had directly brought white supremacy to the White House.
Political commentator Symone Sanders, who previously worked on the Bernie Sanders presidential campaign, responded to host Carol Costello asking about Trump's statement against bigotry at his 'Victory Tour' rally last night. Costello also wanted to know if Trump was more effective when he plainly said "stop it" during his 60 Minutes interview regarding hate attacks in his name.
Sanders pointed out that the people who needed to hear that message "aren't watching 60 Minutes." She also noted that Trump had to have that anti-bigotry statement written into his speech last night and that he doesn't seem to denounce it on Twitter or elsewhere with the same vigor as other subjects.
Sanders proceeded to rail against Breitbart, the conservative publication run by Trump's chief strategist Steve Bannon, calling it a "white nationalist, white supremacist website." She then slammed Trump for his association to Bannon.
"We have put white supremacy in the White House thanks to Donald Trump," she said. "That is something that is very jarring for millions of Americans across the country. So we need words but we also need actions."
The conversation continued around Bannon and his ties to the alt-right, with commentators Scottie Nell Hughes and Tara Setmayer debating over whether he should be involved with the Trump administration at all due to his divisiveness.
Sanders would later chime in again, telling Hughes that it was the "equivalent of saying I have a black friend" when Hughes pointed out that more than 200 counties that voted for Barack Obama flipped to Trump this election.
Watch the exchange above, via CNN.
[image via screengrab]
–
Follow Justin Baragona on Twitter: @justinbaragona
Have a tip we should know? tips@mediaite.com