South Carolina Taco Joint Taking Heat For Racially-Charged 'How To Catch An Illegal Immigrant' T-Shirt
A taco restaurant in South Carolina has come under considerable fire for its racially-charged t-shirts showing a wooden box trap with tacos as bait, captioned "How To Catch An Illegal Immigrant."
Taco Cid in West Columbia, S.C., has come under fire after a Free Times reporter posted a photo of a restaurant employee wearing the inflammatory tee shirt while preparing food. The letters of the caption are clearly colored in the red, white, and green of the Mexican flag: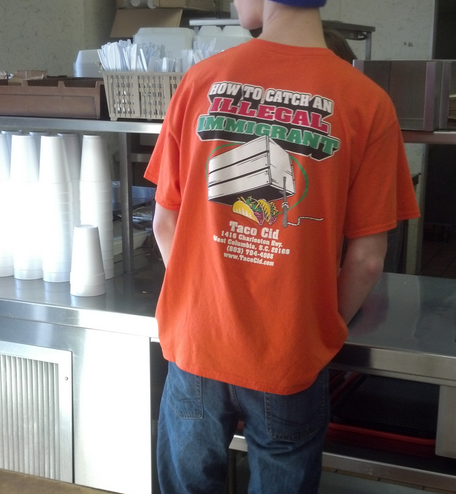 The restaurant's employees wear the tee shirts regularly at work, and patrons can buy them at the store as well.
Taco Cid's own website addresses the tee shirt controversy, claiming it's all in jest and has no racial connotations (emphasis theirs):
Our t-shirts were created as a witty and comical statement regarding ILLEGAL immigrants. There are NO racial nor hate remarks towards any specific ethnic group.

Taco Cid and its employees are not racist. We will serve EVERY individual with the same quality of service, respect in a friendly and welcoming manner.

Our food is fresh and prepared and served in the SAME QUALITY and QUANTITY, regardless of your race, religion or political views.

As most tax paying Americans, we do believe ILLEGAL immigrants are taxing the system we support and live under, thereby, causing us to work harder and pay more taxes in support of their illegal activities which our government has simply chosen to look the other way. Is it racist to disagree with those who are not supporting the American system?

We are an equal opportunity employer and will hire anyone who meets our needs and is a legal citizen or immigrant. We do not hire illegal immigrants. Our employees pay taxes.

We are open Monday through Saturday and closed Sundays — in observance of a day of worship.

If you do not agree with our views on ILLEGAL immigrants, please do not visit our establishment. If you agree with our view on American Equality in citizenship and tax fairness, then show your support and come join us for lunch or dinner.
[h/t ThinkProgress]
— —
>> Follow Andrew Kirell (@AndrewKirell) on Twitter
Have a tip we should know? tips@mediaite.com