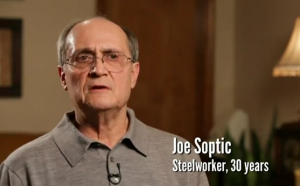 An ad released yesterday by Priorities USA, the pro-Obama Super PAC, featured a steelworker named Joe Soptic who connected Mitt Romney's business dealings at Bain Capital involving GST Steel to his wife's death. The Obama campaign has not condemned the ad, and staffers Robert Gibbs and Stephanie Cutter denied knowing the specifics of Soptic's story. However, according to POLITICO, Soptic was featured in an Obama campaign ad back in May and in a campaign conference call.
RELATED: Stephanie Cutter Fact-Checks CNN On SuperPAC Ad Blaming Mitt Romney For Death Of Steelworker's Wife
The Obama campaign ad Soptic appeared in back in May was called "Steel," focusing on the role of Bain Capital in the closure of GST Steel in Kansas City. Soptic was featured on an Obama campaign conference call led by Cutter when the ad was announced to reporters.
Bill Burton, a senior strategist for the Super PAC and former White House deputy secretary to President Obama, denied there was any coordination between his group and the Obama campaign, saying that they got the footage to use for the ad in February and were unaware that the Obama campaign was planning on using him in an ad as well. An aide for the Obama campaign similarly denied any coordination.
In the campaign's ad, Soptic speaks only about the plant. In the Priorities spot, he tells the personal story he relayed during the Obama campaign conference call.

"We have no idea when Priorities shot their spot," an Obama campaign official said. "We're not allowed to coordinate with them – but we can tell you it wasn't when we shot ours."

The aide didn't answer questions about when the Obama campaign shot its Soptic footage or explain Cutter's televised statement.
POLITICO notes that Soptic shared the story about his wife's death during the Obama campaign conference call with Cutter, despite Cutter's claim this morning that she was unaware of Soptic's story.
h/t POLITICO
Have a tip we should know? tips@mediaite.com
Josh Feldman - Senior Editor