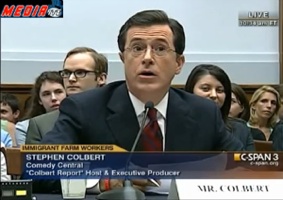 Well, let's hope that this is the weirdest—and most cringe-worthy—thing you see today. Amidst protests from the GOP and right-of-center media outlets, Comedy Central's Stephen Colbert (host of The Colbert Report) testified this morning before the House Judiciary Committee's Subcommittee on Immigration, Citizenship, Refugees, Border Security, and International Law.
The appearance almost didn't happen—at least, it wouldn't have if Colbert had followed the direction of Rep. John Conyers, (D-MI), chairman of the Judiciary Committee. Conyers asked that Colbert leave so that the Committe could "get to the bottom" of the issue.
"I would like to recommend, that now we got all this attention, that you excuse yourself and you let us get on with the three witnesses and all the other members there," he said. "I'm asking you to leave the committee room completely, and submit your statement." Video of that portion (Colbert's full testimony follows):
But Colbert persisted, staying in character and joking throughout the testimony. At one point he suggested that "if we don't want people picking beans, we should make plants that pick themselves," which did not appear to amuse the GOP officials in attendance.
What does it say about the state of the media today that fake-newsman-cum-comedian Stephen Colbert's testimony in front of Congress is, for many, a much bigger story than Jon Klein leaving as president of CNN?
Or maybe this is a better question: did Stephen Colbert's testimony make a mockery of the legislative process? Or does the legislative process deserve to be mocked? Perhaps the correct answer is all of the above.
Have a tip we should know? tips@mediaite.com