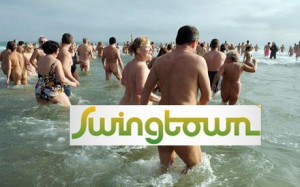 Cowboys versus Indians. Vampires versus Werewolves. Pirates versus Ninjas. These are the tried and true rivalries of our time. Epic struggles that inspire films, books, and cheesy abstinence PSAs disguised as films and books. However, there's one other grudge match many have overlooked: Swingers versus Nudists.
That's right, the two groups known best for never being as attractive as you expected when you watch a late night HBO documentary on them are fighting it out for the soul of a French city.
From the Telegraph:
Tensions in the town of Cap d'Agde, which is known as France's "Naked City" thanks to its large nudist population, have risen after locals complained that the nudist quarter had been overrun by raunchy hotels and that children had been confronted with people indulging in sexual acts in public, according to the Independent.
The exhibitionist behaviour has been blamed on the "libertines", a group of swingers who have descended on the town in recent years.
To make matters worse, the group has been accused of walking about in their clothes and mocking the "real" nudists, the paper said.
Florence Denestebe, an independent local councillor, recently told a council meeting: "When the sun shines, there is an area of Cap d'Agde which turns into the European capital of free sex."
She called on the mayor to intervene before there was an "explosion of libertine behaviour in non-nudist areas" of the town.
Can't we all just get along? Or, better yet, can't we get some more quotes so I can turn them into a teen-lit series and make billions? I mean, just think about it! What hot young actor wouldn't want to get the sweet role of Edouard, the 65 year old French naturalist…with a heart of gold!
While I craft my surefire hit, you can pledge your allegiance to one of these brave clans in the poll below.
Have a tip we should know? [email protected]