Strange Bedfellows: Rush Limbaugh, Jon Stewart Slam Glenn Beck's CPAC Speech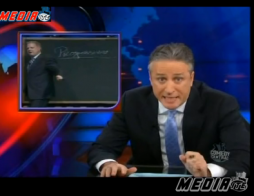 Wow. So, Glenn Beck's CPAC keynote speech on Friday was apparently so powerful it united Jon Stewart, Rush Limbaugh and Mark Levin…against him. I'm not sure what that says about Beck except that he really has managed to carve out a place all his own in the media landscape these last few months and he maybe is making some people nervous. Well not Jon Stewart per se ('gold mine' might be a better description), but it's certainly interesting to hear Rush Limbaugh (ever so gently) push back at Beck. Sign of things to come? Is Beck on his way to becoming the Frankenstein of the right? The tone of both Levin and Limbaugh suggest they were less than thrilled at Beck's conservative bashing/reality check (videos of all three below).
Said Rush:
I would not have said that the only people who can stop Obama should be excoriated for being just as bad…It would never occur to me to say that. I don't know what the objective would be.
Levin's tone was equally low key though his criticism had a sharper edge to it. He advised Beck to stop acting like a clown and to "be careful playing footsie with the mainstream media…they will promote so they can destroy you." Levin also pushed back at Beck's criticism of the right: "Stop dividing us…Republicans deserve reinforcements."
Meanwhile Jon Stewart, after branding the chalkboard Beck's "magic erasable truth board!" latched on to what a number of people on Twitter mentioned during the speech in reaction to Beck's assertion the he educated himself at the public library…where books are free! Notes Stewart:
How did Glenn Beck learn that all this was bad? [Cut to Beck at CPAC: 'I went to the library, I educated myself, books are free']…Glenn Glenn Glenn the library ISNT FREE It's paid for with tax money! Free public libraries are the result of the progressive movement to communally share books. It's like saying I learned diet plans didn't work when i lost all that weight at Weight Watchers
Voila. Maybe all three can start some sort of Beck support group. Videos below.
Update: World Net Daily is none too happy with Beck either, though for very different reasons.
Update again: Just pulled this from yesterday's show. Beck responding to some of the general criticisms of his speech.
Jon Stewart:





Rush Limbaugh:





Mark Levin





Have a tip we should know? tips@mediaite.com