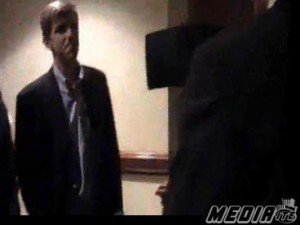 As one of the few non-conservatives embedded at this year's CPAC, I was afforded a point of view vastly different from most outsiders, and I learned some surprising things. First, there was the stealth Rachel Maddow love-fest, and the full-throated jeering of an anti-gay speaker.
One other big surprise was the fact that ACORN auteur James O'Keefe inspired widespread resentment among CPAC insiders.
I first saw James O'Keefe Thursday afternoon, on my way out to have a smoke. He seemed to be in pretty good spirits then, but about half an hour later, I heard some grumbling in the hotel bar. Some guys with CPAC blogger credentials were talking to some other attendees about how James and Hannah Giles were up in the "Blogger's Lounge."
"He's being a real prima donna," the one guy said a well-known conservative blogger. "They won't talk to anyone. A photographer from Townhall asked if she could take a picture of them, and he wouldn't even do that."
This was pretty much the reaction of everyone I spoke to at the convention (with the exception of 3 of O'Keefe's personal friends whom I met). They didn't just turn quickly, but sharply, too."We mustn't photograph the precious" came another hit on O'Keefe, a mocking term usually reserved, by young conservatives, for President Obama.
Of course, I've been trying to get past Andrew Breitbart to interview James since the ACORN story broke, so depite the seeming futility, I went upstairs to see if I could arrange it.
As it happens, my camera was running, and the end result looks a lot like one of those ACORN videos. Obviously, the key differences are that my camera wasn't hidden, I wasn't wearing a costume, and I was honest about who I was. But still.
I wasn't super-optimistic, but I figured it was a long weekend, who knows? After my run-in with Andrew Breitbart, in which he pretty much dared me to interview O'Keefe, I ran into Hannah again, and tried to redeem that promised interview. Here's how that went:
So, James promised interviews all weekend, but was leaving after one night, and Breitbart dared me to interview a guy he knew wasn't there, essentially using him as an absentee human shield.
I have to say, Hannah Giles was very gracious, especially considering that our second meeting occurred only minutes after Andrew Breitbart finished losing it on me.
Also worth noting, for future reference, is that the guy to Hanna's left, holding the dinky flipcam, later accosted me outside a karaoke bar to defend his "good friend" James against having questions asked about him. It was a good time.
I have to say, in this case, I almost have to side with O'Keefe. While he was apparently somewhat loquacious on the way in, it seems like someone, possibly his lawyer, talked some sense into him. With Andrew Breitbart more than willing to pimp O'Keefe, there wasn't much upside to him putting himself any more on the record than necessary.
It's also kind of amusing that, with all that O'Keefe has done to slay their ACORN bogeyman, they throw him under the bus for being "uppity."
As for Ryan Sorba, many liberals have tried to discount the CPAC crowd's jeering as either a loud minority, or as a reaction to the PR damage of such anti-gay sentiments. I can report that these things are not true. First of all, I was there as he was booed off the stage, and I can tell you it was near-unanimous. In a phenomenon similar to the "Dean Scream," the video features audio from Sorba's mic, which doesn't deliver the impact of the ambient sound in the room. The jeering was so loud that everyone in the Blogger's Lounge rushed out onto the balcony to see what was happening.
For the rest of the weekend, attendees and bloggers were fairly united in denouncing Sorba, without prompting. While this kind of divisiveness may generate clicks from the unwashed, it doesn't play with serious conservatives. Here's hoping they continue to be this vocal about moving past this type of rhetoric.
Have a tip we should know? tips@mediaite.com