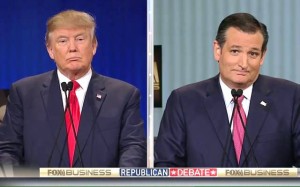 After holding out on Republican presidential nominee Donald Trump for months, it looks like Senator Ted Cruz (R-TX) may get behind the GOP candidate after all.
Sources close to Sen. Cruz and the Trump Campaign are reportedly saying that the Texas senator will cast his support toward the real estate mogul in the next few days. Lifezette reports that figures from both factions have been in contact with each other in recent weeks, primarily to discuss how to take battleground states away from Hillary Clinton:
Those with knowledge of the ongoing discussion say logistics of the endorsement are still being discussed but that it could happen as early as Monday, ahead of the first presidential debate. Those sources noted that Cruz has become seriously concerned about the long-term threats to the Constitution and conservative priorities should Democratic nominee Hillary Clinton win the White House.
The dynamic between Cruz and Trump has been fraught with hostility for months, particularly towards the end of the Republican primary. Trump took various personal shots at Cruz during that period, and when the senator spoke at the RNC, he advised the audience to "vote your conscience" instead of explicitly swearing fealty to the mogul.
Cruz has come under fire ever since his move, with critics saying that he potentially destroyed his own political future by rebelling against his party's choice.
The nature of the reported endorsement is unclear, but radio host and Cruz supporter Steve Deace told CNN "I believe he will release an op-ed today, basing it on the fact he has [Mike] Pence's assurances on judges."
UPDATE – 3:35 p.m. ET: It's a done deal. In a statement on Facebook, Cruz has confirmed that he will support Donald Trump's run for the White House.
"A year ago, I pledged to endorse the Republican nominee, and I am honoring that commitment. And if you don't want to see a Hillary Clinton presidency, I encourage you to vote for him."
You can read the complete statement in it's entirety below:
[Image via screengrab]
— —
>> Follow Ken Meyer (@KenMeyer91) on Twitter
Have a tip we should know? tips@mediaite.com