Ted Cruz to Rush Limbaugh: Reporters 'Act Like They're Hollywood Gossip Columnists'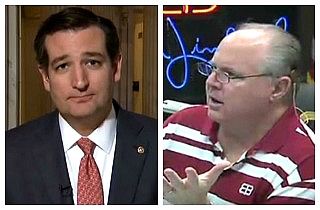 Following the conclusion of his filibuster-like marathon speech in the U.S. Senate, Sen. Ted Cruz (R-TX) joined conservative radio host Rush Limbaugh to discuss his strategy. Cruz told Limbaugh that he practically begged the political press to devote at least a portion of their focus to the problems associate with the Affordable Care Act instead of simply the process of his filibuster. He said that many in the media cover politics like "Hollywood gossip columnists."

"Here's a chance for the Republican Party to connect to a majority of the American people a fundamental issue," Limbaugh told Cruz. He said that the majority of Americans do not favor the ACA, but few of Cruz's GOP colleagues in the Senate want to mount a forceful stand against the law.
"The central issue, I think, is the long-standing problem we've had with Washington not listening to the American people," Cruz replied. "A lot of folks have been in office way too long, who have stopped listening to their constituents. And, as a result, we see lots of theater — lots of empty, symbolic votes — And very little willingness to stand up and fight."
RELATED: Ted Cruz Making All the Right Enemies
Limbaugh countered that many in the political press have accused Cruz of "theater." Cruz countered that the impression the public gets about what happens in Washington from the political press is distorted.
"What is utterly maddening about all of these reporters," Cruz countered, "what do they write about all day long? They write about the process."
"They act like they're Hollywood gossip columnists," he added. "How many times have you and I both read the word "Republican civil war" in the past week? Because that's what they like to write about."
Cruz said part of his filibuster was about beseeching the press to discuss the substance of why the ACA is negatively impacting the job market.
"Part of what's so problematic with Washington is how many Republicans want a show vote to pretend to their constituents they are fighting for what they say fighting for, rather than actually fighting for it and actually winning," Cruz concluded. He noted that the Senate's GOP members have a defeatist attitude that surprised him when he came into office.
Listen to the clip below via The Rush Limbaugh Radio Show:
[Photo via screen grab]
— —
> >Follow Noah Rothman (@NoahCRothman) on Twitter
Have a tip we should know? tips@mediaite.com