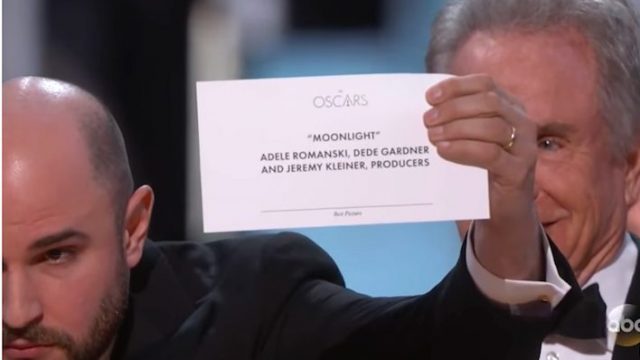 By now, if you haven't heard about the Oscars mistake seen round the world, we're not sure where you've been or what you've been doing. To recap, La La Land was announced as the Best Picture winner when the award actually went to Moonlight. A lot of blame was tossed around but ultimately, the whole thing seems to be the mistake of people at the accounting firm PriceWaterhouseCoopers who are responsible for the results.
As it turns out, the blame may fall specifically on one person, and on that one person's tweet. Brian Cullinan of PWC sent out a tweet from backstage at the show with a picture of Emma Stone after she had won her Best Actress award. The tweet has since been deleted, but it's been screen grabbed and posted on the platform by several users:
"We are currently investigating how this could have happened…" @PwC
Gee, what happened @briancullinan_ ? What were you doing? #Oscars pic.twitter.com/hEmfzyhIGI

— Piper (@PipersPlayroom) February 28, 2017
According to a report from People, Cullinan was not supposed to be tweeting- he was even instructed, specifically, not to do it. A source told the mag, "Brian was asked not to tweet or use social media during the show," adding, "He was fine to tweet before he arrived at the red carpet but once he was under the auspices of the Oscar night job, that was to be his only focus."
The source also said, "Tweeting right before the Best Picture category was announced was not something that should have happened." Of course, we can't know for sure if the tweet was the cause, but it's definitely possible.
[image via screen grab]
Have a tip we should know? [email protected]