The Atlantic: Michele Bachmann Campaign Staffer Arrested In Uganda For Terrorism In 2006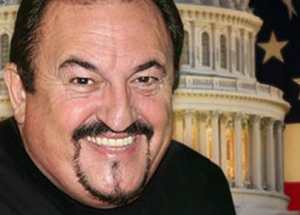 In a story that's already generating attention–and debate–The Atlantic's Garance Franke-Ruta reports that an "evangelical organizer" who works for the presidential campaign of Rep. Michele Bachmann was "charged with terrorism in Uganda after being arrested for possession of assault rifles and ammunition in February 2006, just days before Uganda's first multi-party elections in 20 years." Franke-Ruta reports Peter Waldron spent 37 days in a prison ouside Kampala, with the charges later dropped. A movie about his ordeal is said to be in the works. On Saturday, Waldron helped get-out-the-vote efforts in Ames, Iowa for Bachmann, reportedly declining "repeatedly" to give his name to a reporter.
The Atlantic's story says Waldron's website explains the 2006 incident, saying that he was "falsely accused of being a spy." According to Franke-Ruta:
At the time of his arrest, Waldron was hailed on one right-wing blog as being "an arms dealer of the Lord" and "the latest victim of Christian persecution in Africa." But his allies seeking to free him said he was being persecuted for his reports in the "Africa Dispatch" newsletter about Ugandan opposition activities, and that he denied that he owned or was storing weapons.
Questions about the story, specifically the charge of terrorism, led reporters to an original report on the arrest by a newspaper in Kampala that descibes a police chase, rifles and 184 rounds of ammunition:
Asked what charges Waldron is likely to face, Mugenyi said, "Definitely even before we investigate, there is the (offence) of illegal possession of firearms. I do not know what the Director of Public Prosecutions might advise.""If he says it is terrorism, I do not know but right now, the offence of illegal possession of firearms is very clear."
Have a tip we should know? tips@mediaite.com