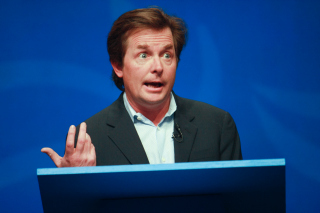 Actor Michael J. Fox was trending on Twitter Wednesday morning — at times reaching the third-highest spot — after a bunch of Twitter bots started tweeting awful jokes about Fox's Parkinson's Disease. Yikes.
Early this morning, the "Michael J. Fox" trend reached its peak on Twitter and then slowly died down as the day went on, according to Trend24, and even attained the number-three spot at this time yesterday.
So some are asking, why is Michael J. Fox trending? Is there a Back to the Future marathon on cable this weekend? One clever user has an answer:
michael j fox is trending bc ppl keep asking why is michael j fox trending

— 03.23.14 (@gabisays) September 24, 2014
Often when celebrities are trending on Twitter, it means they have just passed away. This user expresses her worry at the potential death of the beloved actor:
I see Michael J Fox trending, I get scared and think he is dead. Good job Twitter for giving me a freaking heart attack before lunch :-/

— Aishwarya Iyer (@Hyper_aice) September 24, 2014
And yes, have no fear — Fox is a-okay:
why is Michael j fox still trending, is he ok?

— lipkin22 (@lipkinlip) September 24, 2014
Another user has a solution to stop the madness:
To everyone who posted a joke about Michael j Fox cuz his disease. Find the highest bridge and jump off it

— Robert L. Anderson (@SirRobertAndy) September 24, 2014
Here are a handful of the bot tweets in question:
Me dancing to dubstep is similar to Michael J. Fox baking a cake.

— Yosef Bell (@qeceouz) September 24, 2014
A blind folded Michael J Fox could wrap presents better than me.

— Rosetta Hayes (@rosettahayesxx) September 24, 2014
You are better off letting Michael J Fox hold your baby than letting me babysit

— Gunnar Price (@gunnarl30) September 24, 2014
Make all the jokes about Michael J. Fox that you want but he still makes the best damn milkshakes, hands down.

— Collette Bailey (@poeweqi24) September 24, 2014
It is still unclear how or why this trend began. Click here to see the bots' tweets in real time.
[Image via Shutterstock.com]
[h/t Gawker]
— —
>>Follow Andrew Desiderio (@forza_desiderio) on Twitter
[Note: Mediaite intern Andrew Desiderio is a student at The George Washington University.]
Have a tip we should know? tips@mediaite.com