Fox's Smith Presses Jen Psaki on Legality of Airstrikes: 'Sure Sounds Like Cheney'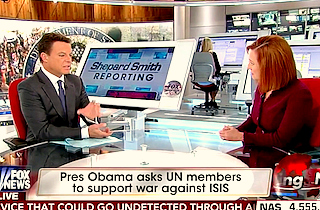 Fox News' Shep Smith quizzed State Department press secretary Jen Psaki Wednesday afternoon over the legality of the U.S. airstrikes in Syria, saying "it sure sounds like" former Vice President Dick Cheney's doctrine of preemptive war.
Psaki said the airstrikes were part of the original AUMF obtained by the Bush administration, though Smith pointed out that she seemed to be referring more to U.S. military action in Iraq rather than Syria, where Monday night's airstrikes took place. Psaki defended strikes against ISIS wherever based on the AUMF, which allows the U.S. to go after al Qaeda-linked groups, causing Smith to point out that this al Qaeda-linked group was, according to Obama nine months ago, the "JV squad."
RELATED: CNN's Borger: Obama Attacked Syria Because He Was 'Up Against a Deadline'
Smith asked if Psaki was working under what he called the "Cheney document," referring to the Bush doctrine of preemptive war.
"The law is if you have been attacked, absolutely go after it," Smith said. "If you believe an attack is imminent you can preemptive. It was only Cheney who said you can just go kill people because you're afraid they might kill us. It looks like to a lot of international observers that's what we're doing. I'm not suggesting this. I'm telling you that's what it looks like international observers, who think what we're doing might be illegal." (The U.S. did cite an imminent threat from the Khorasan group, which was also hit Monday.)
"We're acting in the self-defense of Iraq," Psaki countered. "They want us to help them, they've asked us to come in and help them. There's a letter that has been sent to the United Nations explaining the legal aspect of this. There's no question we're going to ask with legal authority but the president is going to defend the national interest of the United States."
"It's squishy," Smith said, before suggesting that the Bush preemptive war document was unconstitutional.
Watch the clip below, via Fox News:
[Image via screengrab]
——
>> Follow Evan McMurry (@evanmcmurry) on Twitter
Have a tip we should know? tips@mediaite.com