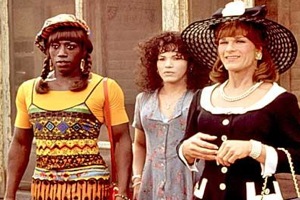 You have to give Daily Beast contributor Simon Doonan credit for something: no one has come up with this solution yet. Doonan, bored of watching the "bumbling straight white dudes" of BP come up empty-handed while the Gulf of Mexico's ecosystem bleeds away, has suggested deploying drag queens— namely, the late performer Dorian Corey— to plug the oil well.
Doonan's main point is that desperate times call for desperate measures, and strong-willed people to be proactive about results. Strong-willed people like Dorian Corey, who, as Doonan succinctly summed it up, "shot and killed an intruder and successfully hid his body in a plaid garment bag FOR OVER 25  YEARS!!!!" It was vigilante justice against a convicted rapist and robber, so Doonan gives her a "Sachay, chantay!" for that. Corey's killer qualifications also include:
She escaped rural hell and snagged a window-dressing gig in a Buffalo department store. (As a card-carrying member of the window dressing fraternity, I say, "Fierce!") In the 1950's she came to New York and studied art at Parsons. The lure of the sequin propelled her into show-business and a starring role in the legendary Pearl Box Review. She became an integral part of this touring troupe of tinsel'd trannies. Her specialty? Dorian had a unique talent for striking glamorous and artistic attitudes while clutching a live boa constrictor.
Doonan concludes that "at the very least," Dorian "would have thrown [the BP team] some serious shade." If fixing the oil leak in the Gulf were a matter of will, then sure, type-A vigilante drag queens would do a better job than Tony Hayward. But what about the part of fixing the oil leak that involves physics and engineering? Doonan doesn't really answer that. And lest you think the question is too serious to ask of an article calling for drags queens to save America, Doonan insists that he is "deadly serious."
Somewhere in the complicated story of Dorian Corey, Doonan is right about something: the entrepreneurial spirit is what will fix the oil spill, just as it solves most problems. Being proactive and defiant in the face of tough challenges is the only way to overcome them, and it takes a certain audacity to be a drag queen that would come in handy in taking risks to save the planet. Now if BP could only give RuPaul a few Newtonian mechanics lessons, we'd be saved.
Have a tip we should know? tips@mediaite.com