The Huffington Post Looks To The New York Times For April Fools' Inspiration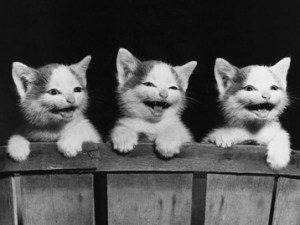 In case your day has yet to been made completely miserable, allow us to remind you that it happens to be "April Fools' Day." Yeah, we know: Blegh. The Huffington Post decided to get in the holiday spirit, as it were, by telling readers about a brand new feature they've just introduced: digital subscriptions to HuffPost especially for New York Times employees. (This is the part where you go "Teehee!")
In addition to poking fun at the New York Times' paywall in general, Arianna Huffington's post about this new digital subscription plan includes a nice little dig at New York Times executive editor Bill Keller:
On HuffingtonPost.com you can view the first 6 letters of each word at no charge (including slideshows of adorable kittens). After 6 letters, we will ask you to become a digital subscriber. You may choose to subscribe to see the rest of each word individually, or choose a package to access all words of more than 6 letters.
You'll remember that Keller referred to HuffPost's special formula as being comprised of "celebrity gossip, adorable kitten videos, posts from unpaid bloggers and news reports from other publications," all with a dash of liberal viewpoints and some eye of newt.
Aaaanyway. Here are some other perks NYT employees can enjoy:
If you come in through Facebook, you'll be able to access for free all stories involving animals born with extra limbs.

If you come in through Twitter, you'll be able to access for free words that contain more than six letters, but only those that refer to antiquated transportation machines (i.e. "funicular").

If you come in through Google, you'll be able to access stories of criminals who break into people's houses and then do strange things, such as take a shower or eat a snack.

If you come in through Digg, you'll be able to read for free all stories that refer to TV's Erik Estrada.
So, you know. Kind of a fun way to keep a feud going – and make fun at oneself – especially in light of Huffington's recent interview with the New York Times' magazine.
h/t HuffPost
Have a tip we should know? tips@mediaite.com