The Long Goodbye: Mediaite Staff Toasts (And Roasts) Managing Editor Colby Hall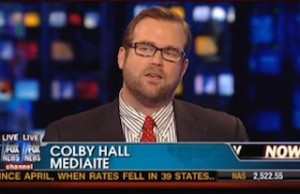 You may or may not have heard yet, but Mediaite is losing Colby Hall, the only Managing Editor it has ever known. While Hall and Mediaite founder Dan Abrams have already had their say, the well-oiled cogs in the Mediaite machine still haven't had their turn. As the last of the Mediaite O.G.s, it falls to me to guide this exercise, and to send Mr. Hall into the after-Mediaite-life with a full understanding of what he has meant to us. I'm going to save my thoughts for last, not because they'll be the most important, but because I'm just humble that way.
Anyone who reads this site regularly already knows that Colby Hall is all about the hard work, and the fruits of that workaholism (he keeps a bottle of primo workahol in his desk) are evident in our zillions of unique pagevisitors, or whatever, and in the influence this site has developed in such a short time. Rather than list his obvious accomplishments, then, I asked our staff to share their favorite Colby Hall jokes ("Where does a slice of cheese go to study?") or anecdotes, in an effort to convey our feelings more organically.
As a bonus, one former Mediaite staffer offered an unsolicited sendoff. Drew Grant, now with The New York Observer (whose name is also a neat descriptor of their readership) (was that too jerky?) went all giggly at Colby's use of the word "masturbatory" in his farewell note. If I know Colby, he'd want us to reciprocate, so if you're feeling generous, go check it out.
Senior Editor And Video Director Jon Nicosia:
Where do I begin? Colby hired me in Nov of 2009 and said, "We have this video platform we would like to start using, here are the keys, have fun"

That started 2 years of fun (and counting).  What he should have said was, "Here is a bottle of oxycodone, take as many as you like, nothing bad will happen."

Needless to say, the energy of a new site was intoxicating and addictive, and he was my "dealer."

On many occasions I will use my favorite Star Trek line –  "I need warp speed in three minutes or we're all dead!" – to describe the drive to be first with a post and a video. This has never been "work" for me. For me it was Colby and I saying "Did you see our traffic numbers on Chartbeat?"

"Oh crap, they just said 'Mediaite' on Fox/CNN/MSNBC/Animal Planet (someday)…" or the holy grail… "DRUDGE LINK!"

Colby inspired the "wow!" factor that we were driving the news, changing the news, and many times making news. I have talked to Colby on the phone in almost every* situation off-hours (*Some disputed, and you know what I'm talking about) about posts, videos, hey did you see this?

And even recently on his appearance on Fox News (again), I would still say to myself, "Wow, I know that guy."

Colby is a consummate professional (and a awesome Dad to Nate and Tommy) who I consider a friend and mentor. He will be sorely missed, and will no doubt bring the same spirit he had to inspire here to his new employees at Clear Channel. And to his new Clear Channel employees: He LOVES when you call about 10 times a day. All the best, my friend.
Senior Editor Nando Di Fino:
We first worked together on "Kidz In The Hall," Colby's misguided one-man off-Broadway musical from 1994 that he hoped would gain traction with tourists mistaking it for a stage version of the then-popular TV sketch show. It featured Colby exploring several child-like personalities trapped inside of him, who expressed themselves through the music of Madonna. I played the off-stage voice of "Papa" in "Papa don't Preach." The show lasted for two months, with ticket sales fueled mostly by disappointed tourists. We pinky swore we would work again together.

In 2003, he cast me for the cable doc MTV News: The Social History of Virginity. I was supposed to operate a camera and reprise my role in a voiceover as "Papa" — a clever nod to the growing number of fans who had discovered the "Kidz In The Hall" soundtrack accidentally online. We were both fired after taking all the virgins they had cast out for drinks on the eve of shooting and introducing them to a young James Crugnale. They spent weeks searching for new virgins.

A year later, Colby called and asked if I would appear on Best Week Ever, a show he was working on for VH1. Every single one of my jokes were eventually cut from the program, as Colby challenged me to make all of them include obscure references to movies starring actor Arye Gross. I wasn't asked back for more episodes.

We didn't talk for some time after that. But then, this September, I received a call from Colby. He had been running a site called Mediaite and asked me to join him.

"Oh," I remember saying, "This is probably just some Papa-related thing again."

"No, friend," he told me. "We need you to find Family Feud clips where old ladies say 'poop' and 'penis.'"

"You had me at 'friend.'"

And now he's abandoning me again.

I'll miss the man, especially during the early morning hours, which we'd frantically cover together. Clear Channel, whatever vague job he's taking with them, will be a better place with him there.
Editor Frances Martel:
As a reader of Mediaite long before I ever dreamed of being a writer for the site, I know what readers will miss most about not having Colby around day in and day out to analyze the news: the ability to spot a new trend in the news cycle or a subtle pattern of spin from a mile away, no matter what side of the political aisle it may come from or who claimed to be behind it.

But what often gets lost behind the scenes is Colby's dedication, as editor, to bring out the best in each of his writers; to take the time to listen to, consider, help incubate and hatch, out of the disjointed bits of observation we bring into the office, some of the most insightful media criticism on the landscape.

Colby was the first person I'd turn to with a bucketful of half-baked column ideas when I walked into the office– out of which he would, somehow, mine a gem that I couldn't identify in my messy thoughts alone. He was there to laugh at my awe when, as a month-old Mediaite intern, I had my first exchange with a real-life famous person (a friendly and thoughtful Andrew Breitbart!), and reminded me that this sort of thing would be par for the course in this job and– more importantly– that I could handle it perfectly well. He encouraged me to pursue my passions every step of the way, even when this meant a hailstorm of Rod Blagojevich trial updates, and every local news cameo by Fabio. If his writers sound particularly proud of the work they did on this ship, it's because we've had full confidence that our captain was steering us in the right direction, whether it be grappling with the gravity of the depth of Osama bin Laden, or fully grasping the frivolity of the Donald Trump faux-presidential campaign.

Colby's leadership here will be missed tremendously, particularly in a presidential year that promises to be every bit as absurd as the year preceding it, and I can't thank him enough for working with me and teaching me how to be a more mature and astute writer.
Editor James Crugnale:
I can't thank Colby enough for giving me the opportunity to work at Mediaite, the best media news aggregator on the Internet. I'll never forget the time the Drudge Report linked to one of my articles, sending a massive wave of traffic to the site, but then taking it down after 30 minutes.

Later in the afternoon, after being feeling bittersweet about getting a Drudge link, only to have it quickly taken away, Colby said I had a telephone call. "From who?" I asked. 'Why, Matt Drudge!' he replied. "What?!" I exclaimed. So I picked up his phone, looking at Colby in anticipation and answered 'Hello…Mr. Drudge?' before he stopped me and let me know I was being punked. Oh shucks. I'm going to miss those kinds of zany antics around the office.

Kidding aside, Colby has been a really affable, wise, Obi-wan Kenobi of a managing editor, who has helped me to become a better journalist/content aggregator and his presence is going to be greatly missed in the office.
Editor Alex Alvarez:
One of the funniest memories I have of Colby is the time he convinced Jamie that Matt Drudge was calling him (Jamie) via Colby's iPhone. Jamie took the phone and said "Hello… Mr. Drudge?"

I also enjoyed seeing what rather fashionable ensemble he'd come up with each day.
Editor Jon Bershad:
I have never heard Colby Hall yell at me. He did, however, once create a fake user name on Reddit, post a story under it that was simply the text "Did you hear Jon Bershad only wrote two posts today at Mediaite?," and then send me the link telling me it was a cool article. That was a particularly prickish way to discipline an employee. Like I said, I never heard him yell though.

What I did hear from Colby, however, and what I heard constantly, was the sound of his children's laughter. Every other day, you could hear Colby watching home videos in his office. He was constantly sending us YouTube links of these videos, seemingly stunned that employees rushing to find a damned Glenn Beck story so as to keep from getting punished via passive aggressive Reddit links didn't have time to watch six minutes of little league clips. And that's because Colby loves his family. I know this because he's chosen to take another job to better support them and, in doing so, he's leaving this one; a job he loved more than (almost) anything.

That you could tell from everything he did. The way he walked into his office. The way he wrote his posts. The way he took phone call after phone call from angry network publicists and somehow didn't end up jumping from our fifth floor window. No, where a lesser man would have found all of this daily insanity all too, well, insane, for some odd reason, Colby actually enjoyed doing it. And through his enjoyment, we've all enjoyed it too. I don't doubt that we'll all enjoy it a little less without him. I know I will.

And that's why I'm sad he's dead.

He's dead, right? I forgot why I'm writing this.
Me, Tommy Christopher: Unfortunately, I've already told my best Colby Hall story, which you'll have to search our archives for (and which is still re-told around Washington, DC, much to my chagrin), but they're all pretty much the same, and they all need to be placed in this context: 99% of the time, Colby and I are on the same page, editorially. It's in that 1% or less, though, that we learned from each other, and in which Colby demonstrated his highest degree of skill as a manager, and as a friend.
The short version is…I can really be a prick. When Colby and I have a disagreement about something, it usually goes like this: 10 minutes or so of heated G-Chat, at which time I will call Colby on that tin-can-and-string he calls a cellphone, and we'll argue for a few minutes, before he hangs up on me. Then, after a few minutes, we'll G-Chat a little more, and about 60-70% of the time, I lose the argument. In those cases, I usually chatted Colby the most irritating Cool Hand Luke line that a manager will ever hear: "Got my head right, boss. Got my head right."
Just to be a prick. What makes this remarkable is that Colby asked for it. I mean, he literally did ask for it. When we first started working together, I told Colby we could do things the easy way, where I would do whatever I was told and keep my mouth shut. He volunteered to do it the hard way, insisting that he wanted me to fight for my ideas.
Now, lots of bosses say they don't want "yes" men, but none of them mean it. Except Colby, because the 30% of the time that I won those fights, Colby, my friend, was able to put aside his ego and do what he thought was best for the site, and perhaps subtly shift his editorial sensibility a little bit.
Those experiences were rewarding for me, not so much for him, because I never let him enjoy the 70% of the times he won. I never told him that, looking back, I realized he was right many of those times, or that their cumulative effect was to make me a sharper, more impactful writer (for example, I learned to lower the baseline temperature of my writing, so the hot spots would be that much hotter).
Colby will probably find much easier employees to manage at Clear Channel (whose name sounds like a passive/aggressive indictment of the rest of their industry, like naming a restaurant "Non-Poisoned Food"), and he deserves it. As anchors from Megyn Kelly to Anderson Cooper might say, "Mediaite Managing Editor Colby Hall, thanks for joining us."
Have a tip we should know? tips@mediaite.com