The Many Posts About the Many Faces of Hillary Clinton at the Benghazi Hearing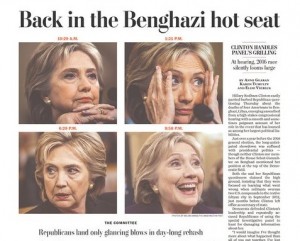 Following Thursday's rather uneventful Benghazi hearing, Matt Drudge of the Drudge Report tweeted one of his personal account's rare tweets. His chief concern? Former Secretary of State Hillary Clinton's apparent poor health, as evidenced by a coughing fit and her many facial expressions.
Enough has been said about that famous cough, but what about Clinton's face? I ask because, though inquiring about her facial expressions throughout the 11-hour Q&A session seems like a silly question (because it is), everyone else seems to think it's important.
And by "everyone," I mean practically every major media outlet and news blog hoping to satisfy their traffic requirements via your desire for multiple intense closeups of the beleaguered Democratic presidential hopeful (regardless of your actual desires).
Washington Post national political correspondent Philip Rucker previewed his paper's cover story, which borrowed multiple poses from a previous blog post, "The many faces of Hillary Clinton at the Benghazi hearing."
Love this @melinamara A1 @washingtonpost display of four Hillary faces during 11 hours of #BenghaziCommittee pic.twitter.com/LsyVlfLxBo

— Philip Rucker (@PhilipRucker) October 23, 2015
Chris Cillizza's WaPo blog post originally went up at 3:03 p.m. local time, while the hearing was still ongoing. Then again, they weren't the first, as both the New York Daily News and BuzzFeed posted similar picture-heavy articles at 1:46 p.m. and 2:45 p.m. respectively.
Throw in additional articles from the Guardian, New York magazine, NBC News, GQ and National Journal, and you're in for a whole lot of detailed shots of Clinton expressing sadness, boredom, anger, curiosity and confusion.
So why the mass media's focus on Hillary's face? It could be because, as committee chair Trey Gowdy (R-SC) himself admitted, Thursday's inquiry revealed nothing new about what happened on Sept. 11, 2012. Maybe there weren't enough fireworks during the 11 hours of elongated statements, brief questions and constantly interrupted answers.
Or maybe readers (re: writers) were dying to pump some life back into the once-popular "Hillary Laughing" and "Texts from Hillary" memes.
Either way, it's pretty dumb, and it doesn't look like it's going to stop anytime soon.
[Image via screengrab]
— —
>> Follow Andrew Husband (@AndrewHusband) on Twitter
This is an opinion piece. The views expressed in this article are those of just the author.