The Plot Thickens: 2007 News of the World Letter Alleges Widespread Knowledge Of Phone Hacking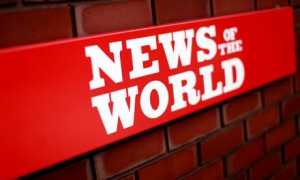 New evidence that the News of the World covered up phone hacking at the paper has been brought to light in the form of a letter sent from a former editor at the paper to a human resources director at News International, contesting his firing from the paper by claiming "other members of staff were carrying out the same legal procedures."
Clive Goodman, the paper's former royal editor, was arrested in early 2007 and sentenced to four months in prison after pleading guilty to hacking the voicemails of employees of the royal family. Goodman was subsequently fired by the paper. Innocent enough, right?
Well, Goodman seemed to have a problem with this, and he sent a strongly-worded letter to Daniel Clarke, the Group Human Resources Director at News International. Some parts have been redacted, but it's nevertheless a bombshell document. When you read, keep in mind that Glen Mulcaire was a private investigator being hired by the paper who was also arrested in 2007 for phone hacking.
Re.: Notice of termination of employment

I refer to Les Hinton's letter of February 5, 2007 informing me of my dismissal for alleged gross misconduct.

The letter identifies the reason for the dismissal as "recent events". I take this to mean my plea of guilty to conspiracy to intercept the voicemail messages of three employees of the royal family.

I am appealing against this decision on the following grounds:

i The decision is perverse in that the actions leading to this criminal charge were carried out with the full knowledge and support of [REDACTED]. Payment for Glen Mulcaire's services was arranged by [REDACTED].

ii The decision is inconsistent, because [REDACTED] and other members of staff were carrying out the same illegal procedures. The prosecution counsel, the counsel for Glen Mulcaire, and the judge at the sentencing hearing agreed that other News of the World employees were the clients for Mulcaire's five solo substantive charges. This practice was widely discussed in the daily editorial conference, until explicit reference to it was banned by the Editor. As far as I am aware, no other member of staff has faced disciplinary action, much less dismissal.

iii My conviction and imprisonment cannot be the real reason for my dismissal. The legal manager, Tom Crone, attended virtually every meeting of my legal team and was given ful access to the Crown Prosecution Service's evidence files. He, and other senior staff of the paper, had long advance knowledge that I would plead guilty. Despite this, the paper continued to employ me. Throughout my suspension, I was given book serialisations to write and was consulted on several occasions about royal stories they needed to check. The paper continues to employ me for a substantial part of my custodial sentence.

iv Tom Crone and the Editor promised on many occasions that I could come back to a job at the newspaper if I did not implicate the paper or any of its staff in my mitigation plea. I did not, and I expect the paper to honour its promise to me.

v The dismissal is automatically unfair as the company failed to go through the minimum required statutory dismissal procedures.

Yours sincerely,

Clive Goodman
The Guardian has a list of statements from News International executives denying that voice hacking was widespread, including a few choice ones specifically referring to Goodman.
Les Hinton, former NI chief executive: Asked by an MP whether NI had conducted "a full, rigorous internal inquiry" and whether he was "absolutely convinced that Clive Goodman was the only person who knew what was going on", Hinton responded: "Yes, we have and I believe he was the only person, but that investigation, under the new editor, continues."

News of the World editor Colin Myler to the Press Complaints Commission: "Our internal inquiries have found no evidence of involvement by News of the World staff other than Clive Goodman in phone message interception beyond the email transcript which emerged in April 2008 during the Gordon Taylor litigation and which has since been revealed in the original Guardian report."
The reaction from Parliament has been very swift, with MPs casting doubts on the accuracy of testimony given by both James and Rupert Murdoch last month. James Murdoch will likely be recalled by Parliament over these new revelations, and Colin Myler & Tom Crone will be brought to testify in September.
Have a tip we should know? tips@mediaite.com
Josh Feldman - Senior Editor