'They're Still Counting the Votes!': Bernie Supporter on CNN Convinced the Battle Still Continues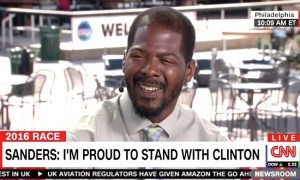 It's a tough week for Bernie Sanders supporters.
By all accounts, the swan song of the upstart, unexpected, grassroots, truly historic campaign came to an end last night when the Vermont Senator delivered the hits to the convention crowd at the Wells Fargo Center for the last time. Cameras were quick to catch the onlookers drawn to tears at the prospect of falling short.
But then again, the official roll call of the 2016 Democratic National Convention isn't until tonight, and if you're a Sanders supporter, you're channeling your inner Lloyd Christmas: so you're telling me there's a chance?
Enter Gary Frazier on CNN Tuesday morning, the East Coast Coordinator for Black Men For Bernie Sanders, who told Carol Costello and the morning panel that, "…this revolution was started by Bernie Sanders but it wouldn't end with Bernie Sanders."
"He lost the primary. There's no two ways about it," offered Costello as the conversation shifted to the Democratic party race.
"He lost?" asked Frazier as if it were truly the very first time the possibility dawned on him. "I see they're still counting votes in California," he continued to silence from the panel. "You know, our votes have been suppressed. Are we ignoring the fact that our votes have been suppressed?"
"Re-litigating the primaries doesn't make a lot of sense," said CNN's Ron Brownstein.
There have certainly been whispers from within the convention hall this week that Sanders is planning a coup of some sort. I've spoken with voters and delegates alike here in Philadelphia who are prepared to be loud, boisterous, and fight until the bitter end tonight at the roll call. They point to a series of grievances that they say strengthen the argument that is is Sanders — not Hillary Clinton — who will represent the party against Donald Trump. Throughout the city of brotherly love, "Bernie Beats Trump" is the war cry of the Sanders faithful.
"You guys exposed us to the corruption of the political system and then you want us to get back in line with the same corruption. How can we do that?" continued Frazier.
Watch the above exchange, including commentary from Katrina Pierson of the Trump campaign, who makes for strange bedfellows to the plight of the Sanders crowd indeed.
—
J.D. Durkin (@jiveDurkey) is an editorial producer and columnist at Mediaite.
[image via screengrab]
Have a tip we should know? tips@mediaite.com