This Exists: Speaker Boehner's Office Sends Viagra-esque Mass Email With Subject Line 'Gone Soft?'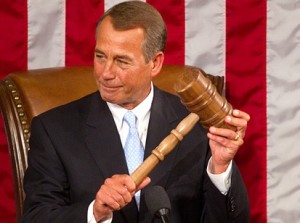 What do you do if you get an email from someone named "Boehner" with the subject line "Gone 'Soft?'"
You reply, "Nope, strong like bull!" and put it in the "spam" folder with all of the other pitches for cheap Viagra substitutes. In perhaps the least self-aware move in the history of new media, Speaker John Boehner's office sent out a "Speaker Alert" email with just that subject line, pegged to remarks by President Obama in an interview last week.
Just as the jokes about the Obama campaign's email subject lines have begun to fade, up pops Boehner to trump them all in real life. Perhaps I'm being too hard on him, though, maybe it was a swell idea, and a taste of things to come. I hear his next email blast will be an endorsement of a former New Mexico governor entitled, "Johnson For America!"
Perhaps Boehner ought to concentrate on how to cure the Republican Party's current electile dysfunction, before he worries about the rest of us.
Just so you don't think I'm making this up, here's the full text of Boehner's email:(emphasis mine)
from Speaker Alert
to tommy@mediaite.com
date Sun, Oct 2, 2011 at 4:39 PM
subject Gone "Soft?"
mailed-by mail.house.gov

Gone "Soft?" Or Threatened By Tax Hikes, Excessive Regulations, & Reckless Spending?

October 2, 2011 | Posted by Speaker Boehner's Press Office | Permalink
In the Weekly Republican Address, Rep. Morgan Griffith (R-VA) says President Obama "should call on the Democrat-led Senate" to follow the House and pass two bipartisan bills protecting jobs from excessive government regulations. While the president thinks America has lost its "competitive edge," Rep. Griffith says these bills represent another "opportunity to widen our common ground and do whatever we can to get government out of the way so our economy can return to creating jobs." Watch him here and read more about these jobs bills below:

Gone "Soft?" Or Threatened By Tax Hikes, Excessive Regulations, & Excessive Spending?

President Obama says America has gone "a little soft" and lost its "competitive edge." But the reality is – as Speaker Boehner recently said – job creators are paralyzed by "the constant threat of new taxes, out-of-control spending, and unnecessary regulation from a government that is always micromanaging, meddling, and manipulating."

In fact, when the president and his advisors talk about a proposal that would affect "millionaires" or "the rich," what it really means is raising taxes on small businesses and private capital (which is essential to job creation) — tax hikes even he's rejected in the past.

Economists, job creators, and fiscal watchdogs have panned the president's tax hike on small businesses. Others say it is just a "political ploy," not a "deficit reduction tool."

As a consequence of the Democrats' Dodd-Frank law you might soon be paying monthly debit card fees. Click here to see how Washington's job-crushing policies are also leading to higher health care premiums and higher gas prices for families and small businesses.

Keeping the Pledge: Republicans Focused on Creating Jobs, Changing the Way Congress Works

Learn more about the bills (including H.R. 2250 and H.R. 2681) referenced by Rep. Griffith that would stop excessive regulations hurting job growth now and putting thousands more at risk.

Reps. Steve Chabot (R-OH) and Geoff Davis (R-KY) asked the White House to support H.R. 2681, which requires Washington to develop "more balanced and effective" rules that "protect public health and the environment without imposing unnecessary economic harm on American businesses and workers." Read the letter here.

Speaker Boehner talked with Fox Business about the Republican jobs plan and the need to fix our tax code by simplifying and lowering rates, and eliminating loopholes and special carve-outs.

Opening resource-rich areas of Alaska to new energy production will create jobs and address high gas prices. Learn more here from a recent Natural Resources Committee hearing.

The House Clerk updated its website with better access to real-time information, reflecting the majority's pledge to make Congress more open and accountable. Check it out here.

Don't forget to watch the weekly Republican address by Rep. Griffith, and be sure to stay connected with the Office of the Speaker on Facebook, Twitter, Flickr, YouTube, and Speaker.gov. Thank you!

– Speaker Boehner's Press Office
Have a tip we should know? tips@mediaite.com