'This Novel Is Not Exactly Fiction': Gloria Steinem Re-Reviews The Handmaid's Tale in the Trump Era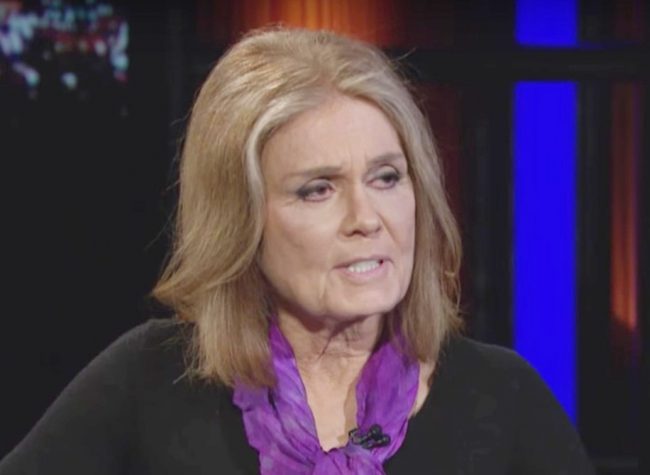 The cast of Hulu's The Handmaid's Tale adaptation have already made it clear they think that the story of a dystopian society where women are used as breeders isn't so far-fetched under a Donald Trump presidency, but they're not alone in their assessment.
Margaret Atwood's famous book was released in 1985 and has since become a classic, but interest in it has recently spiked, which is why feminist icon Gloria Steinem recently re-reviewed it for Earlybird Books. Instead of mentioning America or Trump at all, though, she looked at the parts of the book that already proved themselves to be true elsewhere. (Another foundational book for the dystopian future genre, 1984, has also seen massive gains in popularity since Trump's election.)
Steinem cautioned against getting caught up in Atwood's writing talents or the fantastic aspects of the story and missing the point:
But in the last two decades, I think we've learned that Atwood's novel should be read—or read again—as a warning about patriarchy and its control of reproduction as the underpinning of everything undemocratic, from our own powerful rightwing minority to totalitarianism.

Let's just say this novel is not exactly fiction.
By exploring other historical events from the real world, Steinem made the point that not only is the future Atwood described totally plausible, but each element of it has happened somewhere before, from Nazi Germany to Communist Romania. In each instance, control of women's bodies was central to maintaining governmental control, argued Steinem. To avoid repeating those mistakes, we need to be aware of them, which involves shifting the standard historical focus and finding the real birthplace of democracy.
Read the entire thing here.
[image via screengrab]
——
Have a tip we should know? [email protected]