This Strategically Placed Logo Drove Fans Absolutely Batty During the World Series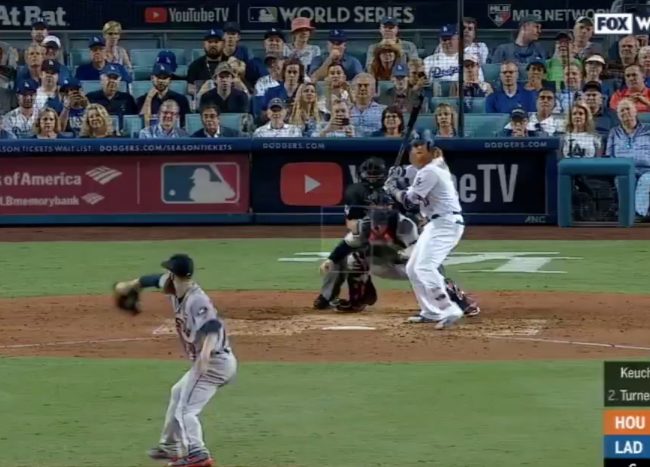 Check out the clip above from Tuesday night's Game 1 of the World Series.
Oh, sorry. Did we say clip? We meant, check out the photo that looks for all the world like it's a video clip but it's actually not because YouTube apparently wants to torture us all.
Give YouTube credit for this one. The Internet video behemoth placed an ad behind home plate through much of the game featuring their signature red and white play button. When a right-handed batter was in the box, that play button appeared to be right in the middle of the screen — in a spot where one would normally click on it.
The ad placement was equal parts brilliant and diabolical. And it drove fans batty watching at home. Here's a small sampling of the reaction from Twitter:
The YouTube ad behind home plate putting the red play button in the exact middle of the screen is sorta next-level evil.

— Craig Calcaterra (@craigcalcaterra) October 25, 2017
is this the World Series or a YouTube ad

— sheahan fan mike (@MikeDarnay) October 25, 2017
You Tube punks the world series: https://t.co/fdYmF2gfyC

— Leo Laporte (@leolaporte) October 25, 2017
This #WorldSeries @youtube ad is distracting lol. #Astros #Dodgers #EarnHistory pic.twitter.com/DDh7GZHQZ2

— Stephanie Stradley (@StephStradley) October 25, 2017
That YouTube play button sign placement is very distracting and bad

— Lindsey Adler (@lindseyadler) October 25, 2017
this YouTube ad is smart marketing but that red play button in the middle of the screen is incredibly distracting and annoying pic.twitter.com/2CD1nNv4OW

— Dave Lozo (@davelozo) October 25, 2017
please raise your hand if you have ever felt personally victimised by the YouTube logo behind home plate at the World Series

— Whitney McIntosh (@WhitneyM02) October 25, 2017
Anyone else find this YouTube ad play button behind home plate exceptionally distracting? Every time I think it's a frozen YouTube video

— Nick Corasaniti (@NYTnickc) October 25, 2017
Bravo @YouTube. Brilliant ad placement. pic.twitter.com/5qeeWU8Vts

— Mark F. Bonner (@markfbonner) October 25, 2017
[image via screengrab]
——
Follow Joe DePaolo (@joe_depaolo) on Twitter
Have a tip we should know? [email protected]
Joe DePaolo - Senior Editor