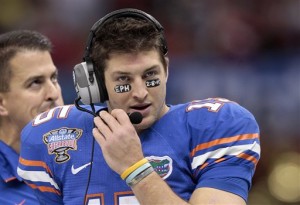 Even if you don't know about college football, by today, at least, you've heard of Tim Tebow, the wunderkind quarterback of the Florida Gators who played his last college football game tonight. Tebow has what the New York Times calls "cartoonish statistics" and is a thrice-nominated Heisman trophy winner (the first sophomore to receive it), was the first NCAA player to rush and pass for 20 touchdowns in a single season, has won all sorts of awards and championships, and, tonight, was the 2010 Sugar Bowl MVP.
If you didn't watch, Tim Teblog author and all-around Tebow expert Dan Shanoff breaks it down:
533 total yards — a BCS bowl record — including 31/35 passing for 482 yards, with 3 TDs and 0 INTs, plus 51 yards rushing and a TD in a 51-24 dismantling of (then-)No. 3 Cincinnati.

It was a record-smashing, virtually perfect performance — beyond playing for a national title, it is hard to think of a better game for Tim Tebow to end his career on.
Tebow will no doubt be the the subject of many sports stories in the coming weeks as his post-college future in the NFL is determined. But that's not why I'm writing about him now. Sure, he's a good football player, but more than that: Tim Tebow is media magic.
I learned that today when I noticed "Ephesians 2:8-10" popping up all over Twitter (which is a very godless place). Does that have anything to do with football? Yes, insofar as that was Tebow's Bible verse of choice for this game, printed on his face in his eye-black. Turns out he chooses a Bible verse to highlight every week, using his face as a billboard so that while he's rushing toward the end zone his fans will be inspired to rush to their King James for a little reacquainting. Apparently it works: Donna Diegel at the Examiner notes that "during and after every game, Google and Twitter light up and go viral" and cites NOLA.com in noting that John 3:16 resulted in 93 million Google hits. Clearly, they're listening (and judging from Tebow's record, so, it seems, is God.)
The other big search term today was "Tebow Cam" — turns out Fox, which broadcast the game to millions of happy viewers after figuring out that Time Warner business, had a special dedicated camera just for Tebow . According to Shanoff, it was the #1 hot search on Google.
What will be interesting going forward will not only be where he lands NFL-wise, but what kind of endorsement deals he pulls. Because for the course of his career, Tim Tebow has endorsed the Bible — and the return on that endorsement has been off the charts. What will happen when Tebow endorses, say, Gatorade? He is a proven commodity. Whatever he thinks his price is, double it.
(He also identified new and valuable billboard space on the human body. Someone's gonna take that and run with it, however awkwardly and cheesily.)
Tim Tebow can play football, but man can he play the Internet. And clearly, he plays to win. Maybe we should all take a lesson from under his eyes: "For by grace are ye saved through faith…"
Tim Tebow's Florida/College Career Ends With a Virtually Perfect Bowl Performance [Tim Teblog]
Tim Tebow, Florida burn Cincinnati 51-24 in Allstate Sugar Bowl [Times Picayune/NOLA.com]
Tebow's Bible Verses get the Google Juice [Examiner]
Tebow Cam [YouTube]
Have a tip we should know? tips@mediaite.com