Timeless Walters Active in Semi-Retirement; Calls Bradley Cooper 'Screwable' in Interview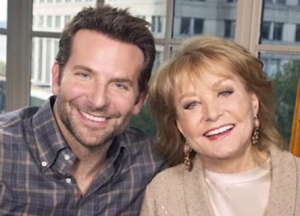 When Barbara Walters retired roughly 18 months ago, the sendoff was one fit for a queen. And justly so, as Walters has arguably accomplished more in television than any other woman in history.
But as I explained to Fox's Martha McCallum on America's Newsroom back in 2014 (video here), Walters wasn't retiring in the sense most Americans do in terms of packing up the office and finding some hobbies to help fill a largely-relaxing existence. The 80-something host is still actively involved in The View (which she created), reportedly sending daily notes to producers and executives when she isn't calling the control room directly. She is also developing her a new program, American Scandal with Barbara Walters, which will provide updates — a Where Are They Now angle — to her more controversial interviews of the past. And this Thursday at 9:00 PM on ABC, Walters will once again present her 10 Most Fascinating People special, an annual offering that began back in 1993. Good for her… she's earned the right to work whenever she chooses.
That's the thing about legends retiring in this business; it shows how hard it is to walk away after decades of only knowing one thing. We see it in boxing all the time, we see it with Tom Brokaw, who stepped down from anchoring the NBC Nightly News in 2004 but still serves in an Emeritus role for the Peacock and pops up periodically from time to time, sometimes making waves along the way.
Speaking of waves, here's what Walters said (and she's pretty much the only network host of a primetime show who can share this kind of observation) to Bradley Cooper, who made the list this year primarily for his performance in the Clint Eastwood blockbuster American Sniper:
"I could just sit and stare at you but that would take too much time. But I find you very screwable," later adding, "I think you're handsome, I think you're sexy." Yup… screwable. My wife, who went to Georgetown with Cooper back in the mid-90s, just laughed heartedly when I showed her the clip while — to my dismay — kind of nodded her head in agreement… hopefully about the handsome part only.
Others in addition to Cooper to make the list this year are:
– Amy Schumer (Walters apparently didn't see the vastly-overrated and overlong Trainwreck),
– Tracy Morgan, who is still recovering from a horrific car accident in June but performed a surprise stand-up at the New York Comedy Club over the weekend.
– Bernie Sanders, who was snubbed from Time's Person of the Year list but easily won its online reader poll.
– Former (and perhaps future) MMA champ Ronda Rousey.
– Ballerina Misty Copeland.
– Fashion designer Donna Karan.
The other two remaining Most Fascinating will be announced soon. The painfully-obvious thinking here is one will be a Republican billionaire running for president while the other will be a veteran male sports star (because Walters always likes to diversify the selections, perhaps in an effort to reach a broader audience) in the form of Tom Brady. After all, he won another Super Bowl while surrounded by controversy, was named MVP, owns a love/hate relationship with fans across the country, overcame the Deflategate 4-game suspension in court… lots to work with here. Plus, it provides another interviewee for Walters to flirt with, which never gets old.
Barbara Walters may have retired 18 months ago, but that hasn't meant hanging up the microphone for good. In the world of television, it's impossible to fully walk away from the rush. 86 — apparently — is the new 56.
— —
Follow Joe Concha on Twitter @JoeConchaTV
This is an opinion piece. The views expressed in this article are those of just the author.