Todd Akin Claims Republicans Will Flock Back To His Campaign After Deadline Passes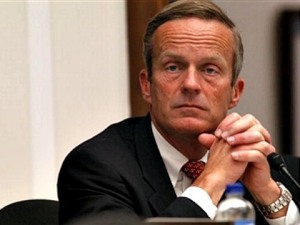 Congressman Todd Akin affirmed to reporters on Capitol Hill yesterday that he still has no intention of dropping out of his Senate race against Claire McCaskill in Missouri. The deadline for any candidate to get their name removed from the ballot is September 25, and Akin said that once the deadline passes, many of the same Republican groups that abandoned him after his controversial comments about rape and abortion will end up coming back to him and throwing more money into his campaign.
RELATED: Karl Rove: If Akin's 'Found Mysteriously Murdered, Don't Look For My Whereabouts!'
Akin said that once the deadline to replace him with another candidate passes, Republicans will flock back to his campaign and help him unseat McCaskill in November.
Back on Capitol Hill for the first time since he said in an Aug. 19 television interview that "legitimate rape" rarely results in pregnancy, Akin told reporters yesterday that national Republican groups may reconsider and back his bid to unseat Democrat Claire McCaskill.

"I would expect, if that's going to happen, you'll see it after about the 25th," Akin, a Missouri congressman, said after leaving the House floor, where he chatted with a number of fellow Republican lawmakers.
Akin also predicted that money would be "flowing his way" from these groups later this month. The National Republican Senatorial Committee and Karl Rove's Super PAC CrossRoads GPS have announced that they will not be spending any money on Akin's race.
According to CNN, Akin added that Missourians have been encouraging him not to drop out, saying things like "Don't you give up. You stay there and you fight."
h/t Businessweek
Have a tip we should know? tips@mediaite.com
Josh Feldman - Senior Editor